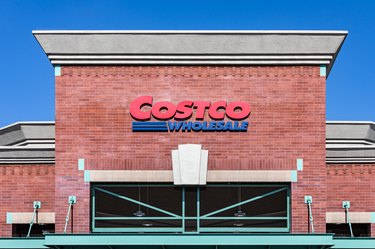 If you regularly visit the bakery section at Costco, you're likely familiar with the warehouse's mini cakes. The treats — which are essentially oversized cupcakes, naturally — are known for their top-notch seasonal flavors. Most recently, Costco brought back the mini raspberry version, just in time for summer.
As Costco Buys shared on Instagram, the baked goods are made of white cake studded with raspberries. They're also topped with raspberry buttercream icing and white chocolate shavings. One pack includes six pieces for $9.99.
The mini cakes first appeared on Costco shelves around this time last year. They were a hit with shoppers, so it's no surprise that the warehouse decided to bring them back.
"They are like raspberry-flavored wedding cake — and that is the highest compliment I can possibly give to them," said one Reddit user in a comment last year. "Eat them ‌very fresh‌! They are incredible."
That being said, many people share that while the mini cakes are delicious, they're also extremely sweet. Some shoppers suggest eating half or less at a time.
You'll also be glad to know that the cakes freeze well, according to Costco fans.
To see if the mini raspberry cakes are available at your local warehouse, call Costco in advance. You can provide the item number — 1655331 — and an employee will check for you.
Other Costco bakery items to try:
The Costco bakery recently released a lemon meringue pie, which weighs nearly four pounds and costs $19.99 per piece. The pie consists of a graham cracker crust filled with lemon cheesecake, which is filled with lemon curd. To complete the dreamy dessert, Costco has also topped the entire pie with toasted meringue.
According to shoppers, the cheesecake is deliciously dense and the meringue has a creamy texture, similar to marshmallows. To check if your warehouse has the pie, ask about item 1658416.