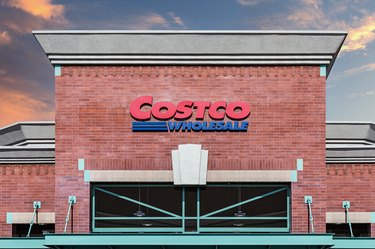 Whether you eat them with chips, sliced vegetables, or as a spread on sandwiches, dips are the perfect addition to any meal. And while you can't go wrong with classic options like guacamole and spinach artichoke, there's something exciting about trying more unique versions. Luckily, there's a new sweet and spicy dip on Costco shelves that you'll want to add to your cart.
Per @costco_doesitagain, the warehouse is selling a raspberry and chipotle dip by La Terra Fina. According to the brand's website, the dip is a "tangy raspberry puree mixed with lively jalapeno peppers, [giving] you sweet and spicy deliciousness in every bite." It's also made of cream cheese and sour cream, so you can be sure it's super satisfying.
If you're not a fan of extra-spicy foods, don't worry. The product is described to be mildly spicy, so it won't overwhelm your taste buds. (However, if you do prefer spicier notes, you can always mix in chopped jalapeno or your go-to hot sauce.)
As you can imagine, Costco shoppers had mixed feelings about the unique dip. Some folks commented, "might need to try this" and "interesting combo," while others said, "ew." Those who have tried the product either loved it or thought it was too sweet.
That being said, should it be too spicy or sweet for your taste buds, you can always tame down the flavor by adding extra cream cheese or sour cream.
What to eat with raspberry and chipotle dip:
Here are a few tasty ways to use the Costco dip:
Pair it with crackers, chips, pretzels, or sliced vegetables
Spread it on turkey, chicken, or salmon
Use it as a topping for tacos
Dilute the dip with hot water to make a creamy pasta sauce
You can also make this raspberry chipotle sauce by Leigh Anne Wilkes. Enjoy it as is or mix it with cream cheese and sour cream to create a dip.