When you think of must-have travel products, some of the first things that come to mind are probably packing cubes, solid luggage, and a neck pillow. But if there's one thing you need to add to your list of travel essentials, it's a pair of slippers.
From personal experience, slippers can make almost any travel destination feel more like home. Not to mention, the true cleanliness of hotel floors can be questionable and sometimes, hotels don't even offer slippers. So, I tried finding the perfect pair and came across the Ofoot Washable Cotton Memory Foam Slippers on Amazon, aka my new favorite travel essential.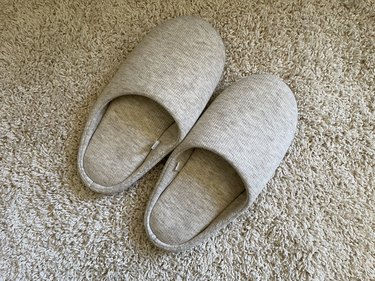 When I first tried them out, I couldn't believe they only cost a little over $20. And after hours on hours of traveling during my last trip, they were exactly what I needed when I got settled into my hotel room.
The slippers are made from 100% cotton, have a cushioned, memory foam-filled insole, and are surprisingly cute. They come in 16 different colors and nine size options. I got mine in beige and love the neutral look. Plus, not only are they super comfortable, but they also don't take up much space in a carry-on.
Overall, these Amazon slippers are cozy, compact, and are the one travel find I officially can't live without.