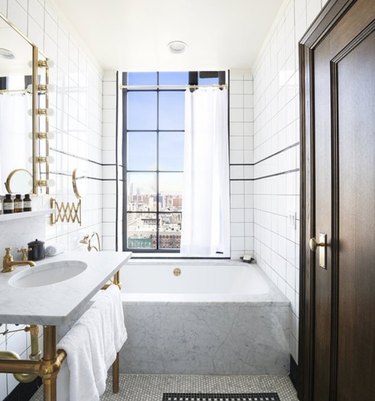 I picked The Ludlow Hotel for its bathtubs. Scrolling through endless TripAdvisor posts, I read review after review that raved about the luxury of bathing in one of the hotel's deep marble tubs with the adjacent window open to a cool Manhattan breeze. As I checked in, I was lost in a reverie, practically smelling the Le Labo bath gel and wondering if I should treat myself to a cold glass of champagne to sip while I soaked.
My daydream was punctuated by the clerk: "Are you enjoying your visit to New York, Miss Serratore?" he asked.
I stammered that I was, too shy to confess that I, in fact, lived in New York City, just a short subway ride from the hotel. It seemed frivolous to admit that I was spending a few hundred bucks to spend a night so close to home, and perhaps even more frivolous to admit that this minivacation wasn't prompted by a power outage, or a heat shortage, or even a hot date. It was just a hotel sleepover in the middle of an otherwise regular week: a treat to myself, for myself, from myself.
I should also admit that by the time I stayed at The Ludlow, I was a one-night hotel stay veteran. Using any number of apps designed to offer discounts on last-minute rooms at hotels around New York, every few months I'll decide that what I need more than a new dress or a fancy dinner is to take a night off from everything. Essentials like a toothbrush and my nicest pajamas get thrown into a tote bag, and while I sometimes bring my computer and turn it into a working stay, I often go with just a book and plans to watch whatever terrible reality shows are on cable.
In the last few years, I've felt more recharged by single nights in hometown hotels than I have after two-week vacations to faraway locales. Aside from the fact that airports are a nightmare and packing is its own special form of torture, bringing out my vacation self on short notice (and with little effort) is like immersion therapy — I don't have time to think about anything except getting into a huge bed with high-thread-count sheets and ordering a room service dessert because I know time is limited.
As someone who loves homewares, too, it can be a treat to take a break from my own apartment and pretend, for a night, that I've made different aesthetic choices. One night I might be a chic minimalist, stretching out in an all-white bed and setting my drink on a black marble nightstand. On another, I've transported myself to Laurel Canyon in the 1960s, a white sheepskin rug under my feet and rich velvet drapes blocking out the sun. At home, my design philosophy by necessity includes a bit of everything — IKEA bookshelves and vintage lamps, fancy candles, and a couch that's more practical than fantastic. I love the space I've assembled, and I (mostly) love everything in it, but it's also full of things that remind me of everyday chores and stressors. Not only are the hotel rooms of my dreams filled with objects that inspire wonder, they're also noticeably absent of shelves that need dusting and irresponsibly large piles of laundry.
I'm clearly not the only person who enjoys this kind of time-out: The hotel app One Night, according to the New York Times, notes that 30 percent of its New York bookings come from New Yorkers themselves. One Night, like HotelTonight and the Standard Hotel's One Night Standard, encourages spur-of-the moment bookings, while sites like Tablet Hotels offer impromptu that-night stays as well as planned visits booked farther out. And while there's probably a joke to be made here about how New Yorkers pay so much in rent we can't afford to go on proper vacations, the one-night hotel stay is just as important a part of travel as bigger trips out of town. It's a chance to focus not on the distance, or the sights, or the Instagrams, but instead on simpler pleasures: a hot shower, a good night's sleep, a fancy breakfast.
When I checked out of The Ludlow the next day, the new clerk on duty asked me a similar question — had I enjoyed my stay in New York, and was I ready to head home? This time, I told her the truth — that "home" was Brooklyn and I'd just been treating myself to a night away from my apartment.
"What a nice idea," she said as we exchanged smiles. And with that, I threw my tote over my shoulder and headed outside to catch a cab — one last indulgence of my thoroughly relaxing vacation.