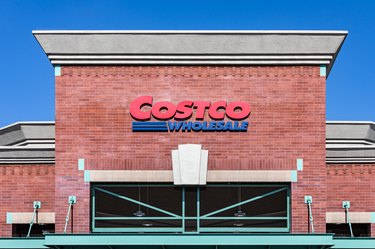 If you're all about nuts, toffee, and/or crunchy snacks, you'll want to add a Costco trip to your to-do list. According to @costco_doesitagain on Instagram, the warehouse is offering Kirkland Signature Butter Toffee Cashews, which sound like the ultimate salty-sweet treat.
The snack — which appears to have come and gone from Costco shelves over the last year — is made using a small batch kettle technique. Each bag contains more than one pound of crunchy goodness, making it perfect for stocking your pantry or serving a crowd.
In either case, the item is said to be delicious. "These are SO good, [they're] gone very quick in my house!" raved one shopper on @costcobuys' Instagram post. "We ate the entire bag in three days," shared another person.
The snack elicited a similar response when it was previously sold last summer. For example, in a previous Reddit post about the cashews, one user said: "This is my new favorite thing. It was one of those times where I was still chewing the sample and already thinking, 'Well, I'm buying this today.'"
It makes perfect sense, too. According to the ingredients list, the cashews are coated in sugar, butter, and a seasoning made of brown sugar and salt. They're also covered in toffee bits to round it all out.
The result is a snack that tastes like "snickerdoodle caramel cashews," per one TikTok user. Yum.
To see if the Kirkland Signature Butter Toffee Cashews are in stock at your local warehouse, give Costco a call. Its item number is 1510336.
Recently, the warehouse brought back its mini carrot cakes (i.e., oversized cupcakes) in honor of Easter and spring. The cakes contain raisins and walnuts and are topped with cream cheese icing. One package contains six pieces and costs $9.99.