If you're a die-hard dessert fan, you've likely had your fair share of stuffed cupcakes. Commonly, the cupcakes are filled with ingredients like icing, jam, or sprinkles. But have you ever had cupcakes stuffed with ... ice cream?
Thanks to Walmart, you can easily make that happen. Per Totally the Bomb, the retailer recently released ice cream-filled cupcakes, and they sound like a real treat.
The new item is available in three flavors: chocolate, vanilla, and strawberry. The chocolate variety is stuffed with chocolate ice cream and topped with chocolate curls, while the vanilla version is filled with vanilla ice cream and stuffed with sprinkles. The strawberry flavor consists of vanilla cupcakes, strawberry ice cream, and a topping of chocolate curls.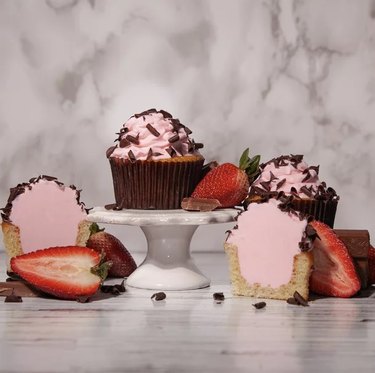 What's more, the ice cream-filled cupcakes are affordable, as one would expect from Walmart. Each 4-pack costs $4.97, though the exact price might vary by location.
And in case you're wondering, yes — ice cream-stuffed cupcakes are meant to be eaten directly from the freezer. We could see these sweet treats being a great alternative for the usual ice cream cake. After all, they're perfect for serving a crowd, as each cupcake is essentially one portion. Yum.
How to make ice cream-stuffed cupcakes:
If you're unable to find the item, you can try making them at home. The same goes if you prefer to use specific cupcakes or ice cream.
The great thing about making your own ice cream-filled cupcakes is that you can customize the recipe based on your dietary needs. For example, you can use a gluten-free cupcake batter or dairy-free ice cream. So fun!