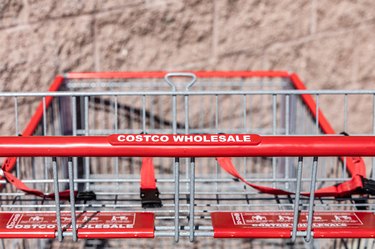 Now that spring has officially sprung, the Costco bakery has been rolling out its most popular seasonal goodies. This includes the beloved mini carrot cakes, as noted by @costcobuys on Instagram.
The mini carrot cakes (or oversized cupcakes, depending on how you look at it) contain walnuts and raisins. They're also topped with cream cheese icing and frosting carrots to boot.
Interestingly, some shoppers say the icing is different than past iterations, noting that it lacks sweetness. But others think the icing is ‌too‌ sweet.
Most folks, however, thought the cakes were divine. For those that loved the item, they called it a "must" and "crazy good." Of course, everyone's taste buds are different, so you'll have to try them for yourself.
As with other mini cakes at Costco, one package contains six pieces and costs $9.99. You can find out if your local warehouse has brought back the product by calling Costco in advance. When you speak to an employee, simply provide the mini carrot cakes' item number, 1530559.
How to upgrade Costco mini carrot cakes:
Try heating the mini cakes before digging in. This will warm up the cake and frosting, which will slightly melt. Yum.
Another option is to top the mini carrot cakes with tasty ingredients, such as:
Shredded coconut
More raisins or chopped walnuts
Ground cinnamon
Grated carrots
Seasonal sprinkles
Edible flowers, like marigolds, hibiscus, and chamomile
Best carrot cupcake recipe:
If you think Costco's mini carrot cakes are too sweet — or if you don't have a Costco membership — check out this recipe for carrot cake cupcakes by Sugar Spun Run. We've made it before and can say that it's delicious.
What's more, going the homemade route allows you to control the sweetness of the icing, which is always a plus.