If you're in need of a desk that looks expensive but isn't, look no further — I just purchased the ‌perfect‌ one on Amazon. It's surrounded by significantly more expensive furniture and still manages to be one of my favorite pieces in our home.
Here were my requirements: compact, under $300, easy to assemble, and preferably with some storage. The Nathan James Parker Desk totally fits the bill. Here's what I like about it (other than its $250 price tag):
I am obsessed with medium-tone wood, and this table has the perfect walnut finish with a slight tinge of red. It's smooth, but you can see subtle grain throughout.
I share this desk with my partner, and I didn't realize just how valuable the storage space would be. The drawer has plenty of room for office supplies, spare chargers, headphones, and the like, while the large open area on the left side fits all of our notebooks, planners, important documents, and laptops, with plenty of room to spare.
3. The ridiculously easy assembly
I recently had a terrible experience building a set of drawers and am pretty much permanently scarred. No tools were required for this. You literally just have to twist in the legs. The product description says "easy 15-minute assembly," but it honestly took under five minutes.
Amazon describes the desk as modern and minimalist with some Scandinavian influence. I would characterize it as more of a midcentury-modern-inspired piece with its splayed legs, which is exactly what I was looking for. In a more contemporary space, however, it would definitely read modern.
I try my best to purchase solid wood furniture, so I was slightly concerned about this desk's MDF wood tabletop. I have been very pleasantly surprised. It looks great and feels incredibly sturdy, and since the engineered wood is pretty light, the desk is super easy to move around. Plus, the material makes it possible to have a beautifully made piece at an approachable price point.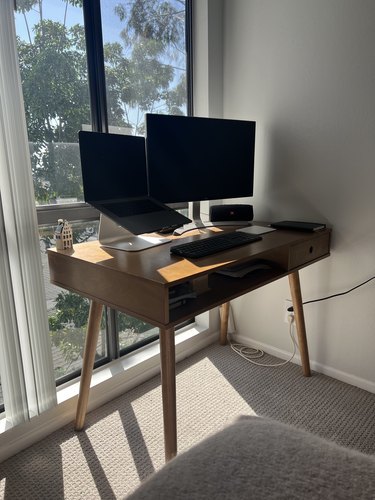 If you want a desk that'll fit in the corner of your bedroom, a shared living space, or a compact office, I cannot recommend this Amazon buy highly enough.