I'm not sure why, but selecting bedroom furniture is so difficult for me. Maybe it's because I want to create a unique spot that's a relaxing sanctuary and also a practical place to sleep and work (my desk is in there too), but I haven't quite pinpointed it. Regardless, I have a hard time with bedroom decor. So, when it came time to get nightstands, I obviously faced a bit of a struggle.
Here were my requirements. First, I needed something that wasn't too big but still had ample storage. Second, I needed something that would go nicely with my new Avocado bed frame. And lastly, I ideally wanted something simple but high quality that would both last a long time and match future homes and apartments.
Between the minimalist, midcentury modern-inspired silhouette, the solid wood construction, and the seamless blend of form and function, Tuft & Needle's Nook Nightstand checked all my boxes. If you, like me, have a hard time committing to bedroom furniture, keep reading for all the details on what I would consider a nearly perfect bedside table.
‌(While I did receive the Nook Nightstands in exchange for an honest review, all of the following thoughts and opinions are my own and are not influenced by Tuft & Needle in any way.)‌
Tuft & Needle began — and is primarily known — as a mattress brand. What makes Tuft & Needle different from other brands? Its mattresses feature a signature T&N Adaptive foam that provides pressure relief through a "flexible sleep surface that responds and adjusts with you." And this isn't just a bunch of hoopla; I actually used to have the brand's T&N Original Mattress and adored it, so I can attest to its quality.
Since its founding in 2012, Tuft & Needle has moved into the bedding and bedroom furniture space. Its collection of furniture features simple pieces mostly made from solid wood with an occasional fabric detail that fit most closely into the midcentury modern category. They all work really well together for a bedroom set feel but totally hold their own as standalone pieces.
What was the delivery and assembly process like?
Each nightstand showed up at my doorstep (only a few days after the order was placed) in a medium-size box. There are very few things I dislike more than assembling furniture, but I must say, the process was pretty effortless. The top and drawer come completely assembled; all you have to do is attach the legs into place. The directions are really straightforward, and all necessary tools are provided. Each nightstand was fully assembled in under 10 minutes. This was especially satisfying since my Amazon dresser that arrived the previous night took me four hours to build.
What has my experience been like using the nightstands?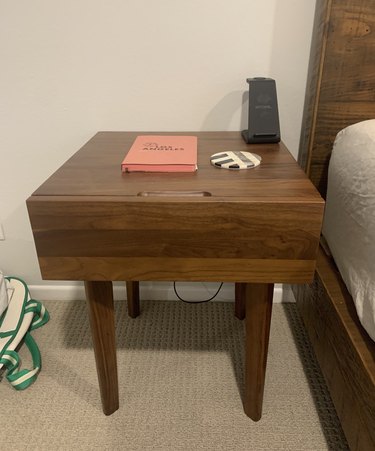 Going back to the beginning, the Nook Nightstand comes in two finishes: walnut and oak. I think the oak (the lighter finish) would look particularly amazing in a desert modern home. I was torn between the two but went for the walnut because I felt it would work best with the furniture I already have.
Now on to my experience with it. This is so random, but I'm weirdly obsessed with the soft-close drawer. Like, it brings me a stupid amount of joy. It honestly just elevates the whole experience. Oh, and the drawer actually does fit a lot. I keep my jewelry, sunglasses, chargers, and headphones in there and still have room to spare.
The walnut wood color looks nearly identical to how it does in the photos online, so you can definitely trust that it will be an accurate representation of how it will work in your space. The angular legs are even prettier in person. They add a little something-something to the otherwise minimalist shape. One thing to note: The table is definitely sleek-looking, so if you like a more distressed or rugged piece of furniture, it may not be for you.
Are the nightstands worth the price?
Here are two things I've learned. First, it's really difficult to find solid wood furniture, even from retailers you would expect to have a large selection of it. Second, if you find solid wood furniture, it's often really, really expensive. While Tuft & Needle's Nook Nightstand is by no means cheap, it's a pretty darn good price for the quality materials and craftsmanship. Plus, the thoughtful, streamlined design is just so ideal for nearly any bedroom. Lastly, the shipping, delivery, and assembly process is completely seamless, and after my nightmare experience with that dresser from Amazon, I will always prioritize the ease of setup moving forward.