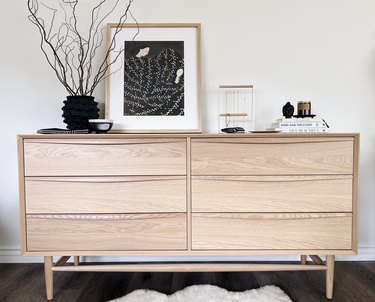 When you move into a new place, which I recently did, it's an opportunity to evaluate whether or not the pieces of furniture and decor that you currently own really serve you. Does each item meet your needs? Does it work with your overall aesthetic? Will it last for years to come? And while I pondered each one of these questions for every piece that I own, there were a few pieces, like my dresser, that I already knew had outlived their usefulness and wouldn't be embarking on this new chapter with me. But what would I replace it with?
Well, after many hours searching high and low, I finally came across the Lenia Dresser from Article. (‌Insert heart-eyes emoji here.‌) I knew instantly that this chest of drawers would be the perfect match for me. But before I got too carried away, I needed to do my research.
‌(In full transparency, I received this dresser in exchange for an honest review, but all of the thoughts and opinions below are my own and were not influenced in any way by Article.)‌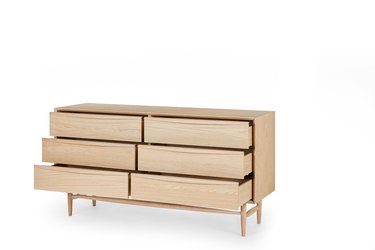 The major problem with my last dresser was that it wasn't big enough to store all of my clothes, so I chose to go with the six-drawer double dresser configuration which gives me a lot more room to work with. And bonus: The drawers are all soft-close, which I absolutely love. My new bedroom is pretty small, so I was worried the dresser would be too big, however, it fits like a glove. The overall dimensions are 63" W x 19" D x 32.5" H.
The dresser is made from solid beech and veneered American white oak and comes in three different wood stains. I opted for the white oak wood stain — which is just as pretty in person as it looks in the photos — but it also comes in walnut and black ash. The design is simple but stylish allowing the beauty of the natural wood to shine through.
Does Article's Lenia Dresser Live Up to the Hype?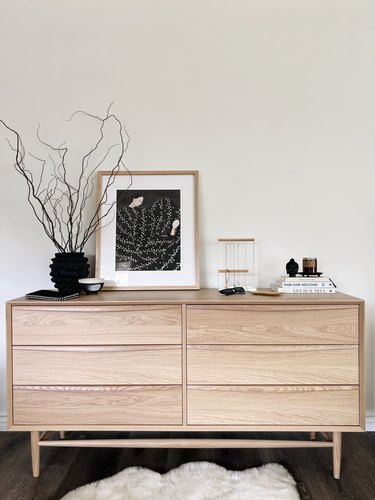 The short answer is "Yes!" I honestly couldn't be happier with my choice, but now I almost feel like I need fancier clothes to store in it. But I digress, that's a problem for another day. From the moment it was delivered and assembled (which by the way, that process was such a breeze and so professional!) the very first thing I noticed was the high-quality craftsmanship and attention to detail. I feel like this is a piece of furniture that will last for years to come. Plus, it's not bad to look at either.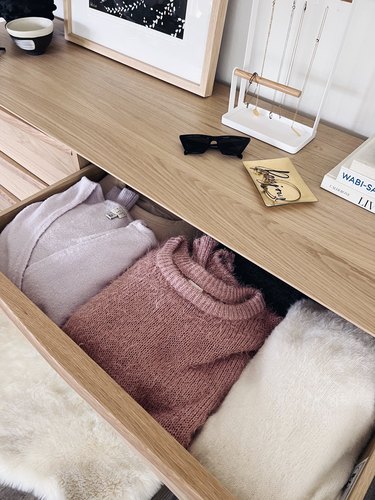 The dresser's minimal midcentury design is truly stunning and blends in effortlessly with the rest of my decor. I especially love that the legs lift it off of the floor, which visually makes the dresser look and feel less bulky, especially in my tiny bedroom. The integrated drawer pulls keep the look clean and seamless. Overall, I would definitely recommend this dresser to anyone looking to invest in a quality piece of bedroom furniture.