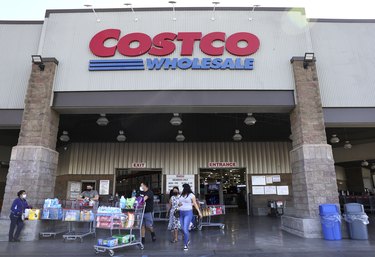 Beyond its stellar prices and beloved food court, Costco is known for creating comically large products. Just take a look at the bakery section's oversized pumpkin pie and 44-count holiday cookie tray. But now, it appears we can add a savory item to the list. According to Reddit users, Costco is currently offering a ham and brie baguette sandwich that weighs just over three pounds.
Specifically, the sandwich is filled with Black forest ham and French brie cheese. It also comes with a Dijon mayonnaise, which is meant to spread on the bread. Additionally, the sandwich is supposed to be heated in the oven at 375 degrees Fahrenheit for 10 to 15 minutes, or until the cheese is melted. Yum.
Despite the deliciousness of the sandwich, Costco shoppers have mixed feelings about the product. Some folks think it sounds tasty, while others have called it "gross," noting that there's too much brie.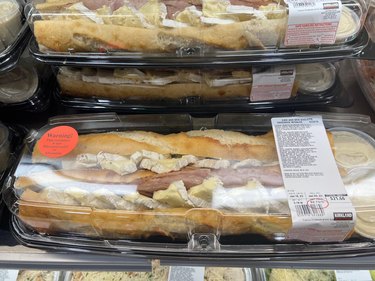 The sandwich also costs $21.66, which is too expensive, according to some people. However, other users were quick to point out that Black forest ham and brie aren't exactly cheap, and the size of the sandwich is quite large. It can easily fit three or four people!
The Reddit user who initially posted the sandwich found it in Salem, Oregon, though other users have reported seeing it in other states, including Nevada, Pennsylvania, Maryland, and Arizona. That being said, if you're interested in trying the sandwich, it's worth calling your local Costco to see if it's in stock. The sandwich's item number is 25376.
How to make ham and brie baguette sandwich:
Fortunately, recreating the sandwich is easy to do at home. As you can probably guess, you'll need ham, brie cheese, and a baguette. To make a Dijon mayonnaise, simply mix Dijon mustard and mayonnaise together. Give it a taste test and add more of either condiment, depending on your preferences.
On Reddit, one user recommended adding thinly sliced apples after baking the sandwich. We'll definitely be giving this a shot.