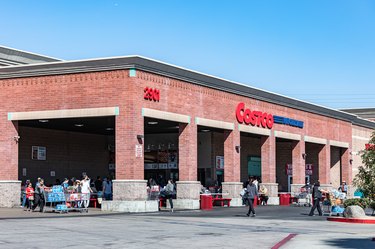 You know it's going to be a good day when you hear about a new Costco bakery item. Case in point: According to Instagram user @costcohotfinds, the retailer just introduced a peanut butter chocolate pie, and it sounds scrumptious.
The pie consists of a butter and graham cracker crust filled with peanut butter cream. The filling is then topped with a layer of chocolate mousse-like cream, resulting in a delicious and mouthwatering dessert.
The product weighs a whopping 4.75 pounds, which is not surprising considering it's a Costco creation. Additionally, it's priced at $19.99 — which, according to some users, is a steep price. But as some shoppers who bought the pie point out, it's actually a great deal when you break things down.
For starters, the pie is huge! As one person notes, it can easily feed a 10 to 12 people, which works out to about $2 per slice. The filling is also exceptionally thick, as noted by another user.
The new peanut butter chocolate pie is slated to be available at all Costco locations in the country, but some people say that it hasn't appeared at their warehouses. That being said, if you're interested in the item, consider calling Costco in advance. Simply provide the pie's item number — 1728395 — and an employee can tell you if it's in stock.
Other products to try at Costco:
While we're on the topic of nutty goodies, Costco recently restocked Sconza Lemoncello Chocolate Almonds. The item is made of roasted California almonds coated with white chocolate and lemon cream. In other words, it tastes just like spring.
Costco is also offering raspberry chipotle dip by the La Terra Fina. The cream cheese-based product contains tangy raspberry puree and spicy jalapeno peppers, resulting in a unique condiment.