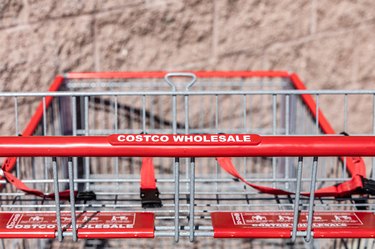 Over the last few weeks, our favorite retailers have been rolling out seasonal goodies, just in time for spring. Some of these items are new, but often, they're popular items that already have a fanbase. One such example is the Sconza Lemoncello Chocolate Almonds, which are officially back at Costco.
Per @costcodeals on Instagram, the spring-inspired treat is back at Costco warehouses across the country. They're made of roasted premium California almonds, which are coated with white chocolate and lemon cream.
The nutty snack was "inspired by Italy's lemon groves," and is described to be "a perfect marriage of citrus and sweet," according to the Sconza Chocolate website.
On Instagram, Costco shoppers were stoked about the product's triumphant return. "LOVE these! I buy them every year," raved one person. "These are delish! [It's] underrated how good these are!" said another user.
BTW, if you find some lemon snacks to be too intense, you'll be glad to know that the lemon flavor in this item is subtle. "We promise they have such a subtle hint of real lemon, even non-lemon lovers love [it]," said @costcodeals in response to another user.
Each 24-ounce bag costs about $9.69, according to a Reddit post from last year, but the exact price may vary by location. You can also call your local Costco to see if they've received the snack; the item number is 771443.
Other new seasonal products:
While we're on the topic of citrus snacks, Trader Joe's recently released at new Yuzu Ripple Coconut Non-Dairy Ice Cream. The frozen treat is said to have a fresh orange-like flavor, which sounds delicious.
Meanwhile, at Sam's Club, the Member's Mark Tres Leches Style Cake is in stores. The refreshing spring cake features a strawberry filling, whipped vanilla topping, dark chocolate fans, and a coating of chopped pecans around the sides.