After years of living alone (well, with my cat) in tiny studio apartments, I just signed a lease with my partner. Very adult of me, I know. While lots of exciting firsts came along with that, there was obviously nothing more thrilling than having an actual room to sleep in that's separate from my living area. Now that I live in a — drumroll, please — ‌one-bedroom‌ apartment, it was finally time to upgrade to a king-size bed. What better excuse to try out the highly raved about Molecule Hybrid mattress, right? Here's everything to know about this (spoiler alert) amazing new addition to my home.
‌​(For transparency purposes, while I did receive the Molecule Hybrid mattress in exchange for an honest review, all of the following thoughts and opinions expressed below are my own and are not influenced by Molecule in any way.)‌
What makes Molecule different from other mattress brands?
Let's start with the brand as a whole. Molecule products are diligently engineered to promote the most restful night's sleep. So, what's the secret? Coolness. Every single Molecule mattress is designed with the intention of dropping the body's core temperature, which has been scientifically proven to positively impact the quality and duration of recovery during sleep.
In order to achieve this, the research and development team, engineers, and medical advisory board design each product to maximize airflow — what they refer to as "air engineered." This means selecting materials, inventing production processes, and developing designs that effectively transfer heat away from the body.
Everything to Know About the Molecule Hybrid Mattress
Let's get into the specifics of the Molecule Hybrid, the brand's most premium mattress. Since it's a hybrid mattress, it combines a foam top with internal coils. This in turn combines coolness with responsiveness. This cooling support is further achieved by Molecule's five-zone support layer, which targets and relieves critical pressure points throughout the body.
This hybrid mattress features an ultra-plush quilted top infused with what the brand refers to as a MOLECULEshield treatment, which helps prevent the growth of odor and stain-causing bacteria for a cleaner sleep. Speaking of a clean product, each mattress is manufactured with the strictest environmental standards. They are all CertiPUR-US certified by a certification program with rigorous standards for the contents and emissions of foam products.
Beneath the quilted top, the foam delivers five times the airflow of traditional memory foam. Beneath that is a layer that provides self-adjusting support for different parts of the body. Then, the individually wrapped coils allow for adaptive, customized comfort and pressure relief. And at the bottom, you'll find 1 inch of firm foundational support to promote healthy spine alignment.
The mattress is the perfect level of firmness for my liking. I would describe it as medium firmness, but since the top layer is so plush, it feels a tad softer than other medium mattresses I've slept on previously. This makes it ridiculously comfortable but still helps you feel extremely supported throughout the night.
In terms of logistics, your mattress will arrive rolled up in a rectangular box, and it quickly expands upon the removal of the plastic wrapping. Last but certainly not least, you'll enjoy free shipping and returns plus a 365-night risk-free trial.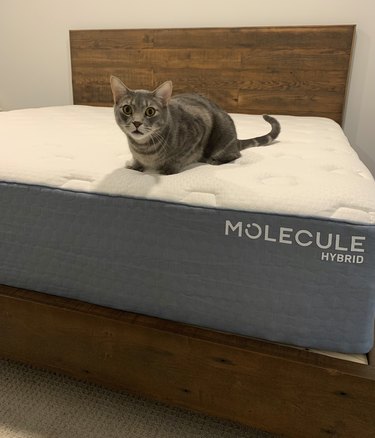 Pros and Cons of the Molecule Hybrid
Pros
It's cool to the touch in a way that's unlike anything I've ever felt before.
The mattress is ultra plush, but thanks to the springs and the sturdy base, it still feels like you're sleeping on top of it instead of sinking in too far.
The quilted top layer feels like a cloud.
The combination of plushness, coolness, and support makes it like the Goldilocks of mattresses.
Cons
It's certainly on the higher side for boxed mattresses, ringing up between $1,299 for a twin and $2,299 for a king.
To note: If you prefer a firm mattress, it will probably be too soft for your liking. It's the perfect medium-firmness mattress.
Is the Molecule Hybrid mattress worth it?
If it isn't obvious already, I'm pretty darn obsessed with my new mattress. If it's in your price range, I highly urge you to go for it. There is no cooling mattress quite like it on the market. It's remarkable.