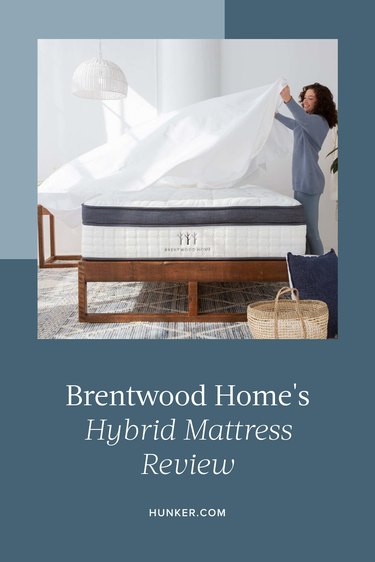 ​(Editor's note: This review was originally published on July 15, 2020.)​
Like many other 20-somethings during this pandemic, I have spent a good amount of this quarantine at my childhood home. With much of Los Angeles shut down, two of my sisters also landing at my parents' house, and the promise of home-cooked meals, it has provided a much-needed respite from my small apartment with limited outdoor space. There was only one problem — the mattress in my childhood room was less than ideal — and by that I mean it was purchased by my parents before I was even born more than 30 years ago ...
I happen to write about home goods for a living and have access to a variety of mattress brands that I knew could help a gal out. I've been writing about Brentwood Home mattresses and products for years, but have never actually tried one, so I knew it was the perfect opportunity.
(For transparency, I did receive this mattress in exchange for an honest review, however, all of the following thoughts and opinions expressed below are my own and are not influenced by Brentwood Home, in any way.)
That said, let's get into it.
After reaching out to the Brentwood Home team, they asked me what kind of sleeper I am — side, back, or stomach — so they could recommend the right mattress for me. I am sort of a toss-and-turn type of sleeper but tend to end up on my side. I like when mattresses feel soft and comfortable, however, if they are ​too​ soft (or too hard), I wake up with extreme soreness in my back and neck. After a quick chat, the rep for Brentwood Home recommended the Oceano Luxury Hybrid Mattress, the brand's top-seller and winner of multiple awards for best mattress.
The specs are truly endless, so visit the website for an even more thorough explanation, but here's a quick rundown: This mattress uses a "5-zone core system" that incorporates up to 3,000 pocket coils for optimal support throughout the body, plus a top layer made of gel-infused memory foam. The combination of both foam and coils is meant to offer a medium-plush feel that provides "elevated support, increased airflow, and lasting durability."
As with all of Brentwood Home's mattresses, the Oceano is also made with an emphasis on ethical practices and sustainable materials. The factory is located just outside of Los Angeles and is GOTS and GOLS certified, which stands for Global Organic Textile Standard and Global Organic Latex Standard, respectively. The memory foam is made with plant-based BioFoam, which uses open-cell technology to regulate temperature and wick moisture for a comfortable and cool night's sleep. The top layer of fabric on the mattress is also sustainably sourced and made with plant-based Tencel fibers from eucalyptus trees, making it an inherently cooling fabric.
Also worth mentioning: The brand partners with the National Forest Foundation and plants three trees for every mattress sold on the website.
There are nearly 530 five-star reviews on how great this mattress is, so I was already excited to try, but the fact that it was also entirely non-toxic and sustainable was extra enticing for me.
Much to my surprise, the mattress arrived fully wrapped up in a box. I'm not gonna lie, that made me a little bit nervous since boxed mattresses aren't usually the best for my back. Plus, at 14 inches thick for a Queen, I didn't understand how it would unravel into a plush feel — but I was immediately proven wrong. It came in an airtight plastic bag, which included a nifty bag cutter that ensured the blade wouldn't cut the mattress, and within minutes of removing the bag the mattress essentially popped up on its own into its permanent shape. From there, my dad assisted me in carrying — but mostly sliding; it's incredibly heavy — the bed into my bedroom and onto the bedframe. Originally, we left the old box spring on the frame to give it a little extra height but ultimately took it off because the mattress is definitely tall enough without it.
There was a slight "new car" smell when we first unboxed it, however, I let it air out for about six hours and by the time I made the bed that evening, the smell was entirely gone.
Now, the easy part: Going to sleep. As I've written about before, I'm a pretty good sleeper in general — it doesn't take long for me to fall asleep and stay asleep — so the best metric for success is usually found the next day, determined by how much my neck and back hurt.
But, miraculously, my back and neck felt amazing after just one sleep. Upon the first feel, it definitely felt a little firmer than expected, but once I got used to the feel of the bed, I found it provided just the right amount of "squish" without sinking in too much. The combination of the coils and memory foam cradled my joints while sleeping on my side, but still felt a bit bouncy when I was getting into bed or rolling over — hence the "hybrid" name, I guess. Also, there's a chance I was looking out for it since I had read so much about it, but I definitely noticed the cooling effects of the materials as well — the mattress didn't absorb heat like other memory foam tends to do. Especially compared to the 30-year-old mattress I was using, this felt like a cloud-like dream.
After a few weeks of sleeping on it, the effect remained — I was cool and cozy and my back and neck pain lessened dramatically. (Let's be honest, part of my pain comes from sitting all day and staring at my phone and computer, so no mattress is going to fix it entirely.)
Overall, this is a wonderful mattress for anyone who likes the feel of a soft and squishy bed but ultimately needs something a bit firmer for support. This would be a great pick for anyone looking for a thicker mattress — since this clocks in at 14 inches for all sizes — whether you need it to support your body weight, don't want a box spring, or have a lower bed frame. Most other online boxed mattresses average around 10 inches, so this is definitely a larger option. Speaking of those online boxed mattress brands, while ease and delivery play a significant factor in ordering them, they are often made of memory foam and are treated as a temporary investment until you splurge on your "mattress for life." Although shipping and set-up are also a breeze, the Oceano Luxury Hybrid Mattress feels like a high-end option. And while it is topped with memory foam, the additional layer of pocketed coils adds an element of luxury that you won't find at many other DTC mattress brands. Plus, at $1,499 for a Queen, it's a relatively inexpensive splurge that will give you extra bang for your buck.
If you're looking for a pure memory foam mattress, can't accommodate such a thick mattress, or need something a bit softer, this particular model probably isn't the choice for you — although Brentwood Home does have four more mattresses available that might be right up your alley.
All in all, I loved the feel of this cozy mattress and slept extra easy knowing I wasn't breathing in any unnecessary toxins or resting on harmful materials. (If you're curious to try, right now you can save $200 with code ​REDPOPPY​.)