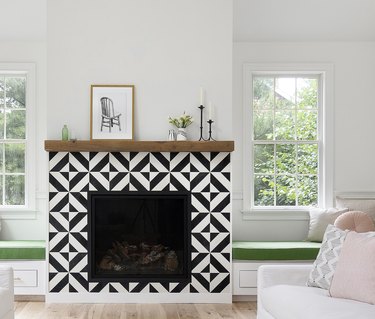 2021 is almost here and it's the perfect time to give your home a little TLC. Whether you're bored with the walls of your living room or dreaming of a more ambient lighting scheme, there are lots of simple and affordable decor swaps you can make to upgrade your place for the new year. From restyling your bookshelves to installing a statement light, here are 10 easy ways interior designers say you can revamp your space this season.
1. Switch up the art on your walls.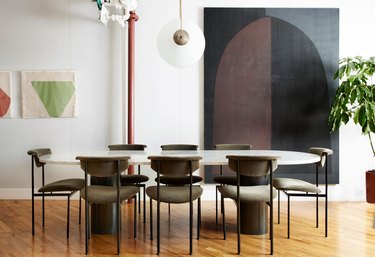 To give your home a fresh feel without spending a penny, Tali Roth suggests moving around the art on your walls. "If you invest in art you love, and that is not meant for a certain wall or to match with existing decor, then you should find it easy enough to move your art around and play with scale," she explains. "This is a quick and easy way to really revive any room and change things up a bit without having to invest in new decor."
2. Restyle your bookshelves.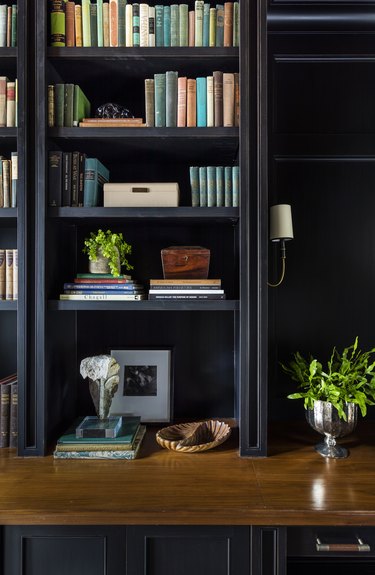 If you're getting a little bored with your surroundings while you're stuck at home for the holidays, Marie Flanigan recommends restyling your bookshelves for an easy yet impactful switch up. "Pull things from other rooms and utilize items you already have," she advises. "Our enjoyment of a space increases when we're surrounded by pieces we love, so incorporate some of your favorite personal items into your shelves. Small works of art, framed photos, and family heirlooms can all bring depth and personality to your arrangement."
3. Install a statement light.
To start the new year off on a brighter (and more stylish) foot, Tiffany Leigh of Tiffany Leigh Design suggests swapping out a builder basic light fixture in your living or dining room with a commanding statement light. "Electrical swaps may sound intimidating, but anyone can learn to easily change a light fixture by watching a video tutorial (and switching off your breaker)," she explains. "Even if you rent, this is something you can remove and take with you to your next home."
4. Upgrade your bathroom vanity mirror.
Searching for an effective way to update your bathroom without having to renovate? Isabel Ladd recommends switching out your basic vanity mirror with a more decorative one. "I love circular or shaped, giltwood ones that make the space less utilitarian and a bit more of a jewel box," she explains.
5. Wallpaper an accent wall.
To make a big impact in a room without breaking your bank account, Mark Lavender of M. Lavender Interiors suggests wallpapering an accent wall. "An eye-catching print can create a great visual in a narrow space, and doesn't require purchasing a lot of wallpaper," he explains.
6. Change up your throw pillows.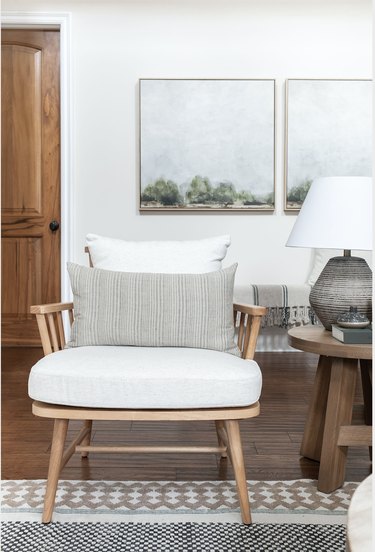 For an affordable living room or bedroom upgrade, Lauren Meichtry, founder of Elsie Home, recommends simply swapping out your throw pillows. "I love going with a more neutral color palette to ease into the new year," she explains. "Neutral colors work well with a cooler climate and still provide the coziness you enjoy in the fall."
7. Move your table lamps around.
To create a more ambient lighting scheme at home without spending any money, John McClain suggests changing around your table lamps. "Many times, we purchase table lamps and think that we have to leave them in the same spot all year round," he explains. "However, you can switch them from room to room when the seasons change for a fresh look that's totally free of charge."
8. Switch up your dining table centerpiece.
A reworked dining table centerpiece can make a big impact when revamping your home for the new year. "You can use decor items that you already have, like vases, to create a fresh centerpiece," says Traci Connell of Traci Connell Interiors. "We are using our dining rooms more often during this time of year, therefore a simple switch in display pieces can change the aesthetic of the room and make the space feel refreshed."
9. Swap out your coffee table books.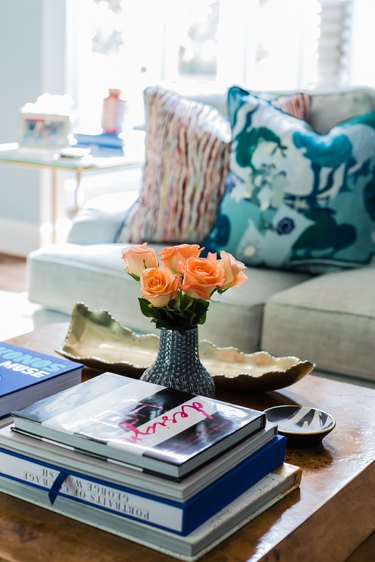 For an easy decor swap that only takes few minutes, Zandy Gammons, co-owner of The Warehouse Interiors, recommends rotating your coffee table books. "By doing so, it adds new color to the space and it adds a different conversation piece to flip through," she explains.
10. Display your art differently.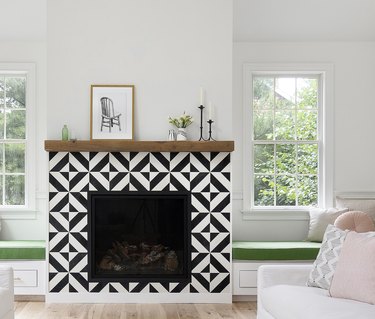 To update a space without purchasing any new wall decor, interior designer and artist Jennifer Hallock suggests showing off your art or framed photos in an unexpected way. "For a more modern look, try leaning them against the wall above your mantel, sideboard, or kitchen counter," she says. "Grouping them can be even more interesting, and the space will instantly feel refreshed and personalized."