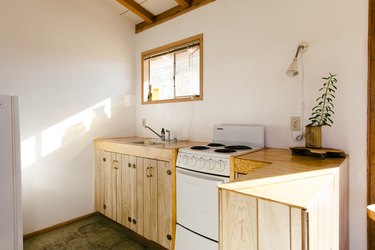 While these things are definitely fun, it can also be helpful to look at practical items, too. Take stoves, for instance. With a sea of cooktop options out there, you may have no idea if a certain stove plays well with your lifestyle. It's key to think about your needs and the amount of time you want to devote to cooking when weighing different types of stoves.
To help move this process along, we've taken out some of the guesswork and coupled the most common types of stoves with different lifestyles to give you a better idea of where to start.
1. For the Parent With Little Ones: Electric Stove
When looking at all the different types of stoves, if your top concern is the safety of your children, it's wise to think about an electric stove. These ranges nearly always feature a "hot surface" indicator light, so you, and the kids, will know it's still too hot to touch. It provides even cooking, ideal if you're whipping up quick meals for you and the family. And, these cooktops are super-easy to clean, meaning you'll have a few extra minutes to wind down after a busy day.
2. For the Investment-Minded: Gas Range
Gas stoves have been around forever and for good reason. Although they may cost more than electric ranges upfront, they pay off in the long run. Your utilities won't take as big of a hit, since gas is typically less expensive than electricity. Plus, those metal burner grates hold up well over time, making these ranges stronger and more durable than flat tops.
3. For the No-Nonsense Cook: Coil Top
Coil stovetops feature burners in spirals of flattened metal, and electricity heats them up. They look similar to gas stoves, but of course don't use gas to heat the food. This style is ideal for the straightforward gourmet, since the burners heat up quickly, the cooktop is not nearly as breakable as glass, and you won't need to go off in search of specific cookware for it — you can use basically any pots and pans you please.
4. For the Gourmet in a Hurry: Induction Cooktop
Relying on magnetic currents, induction cooktops are well-known for their ability to deliver consistent heat that can be controlled better than gas or electric. Additionally, the heat will transfer to your cookware and not the cooktop, which, according to Frigidaire, will cook your food 50% faster. And, it's a breeze to clean, so you won't waste any time there either.
5. For the Minimalist at Heart: Flat Stovetop
Smooth, glossy, and showcasing simple, metal-free circles that serve as burners, a smooth-top or flat stovetop is suited for those drawn to minimalist visuals. If you prefer a simple cleaning routine, this design is right up your alley. Also, if a streamlined, efficient kitchen is important to you, a flat stovetop can even act as extra counter space when it's not in use.
6. For the Customization Devotee: Modular Cooktop
If you're all about customizing items to your unique needs, look no further than a modular cooktop. With a modular design, you can choose both gas and electric, a bonus deep fryer, an indoor grill — if you have the budget and means, the sky's the limit.