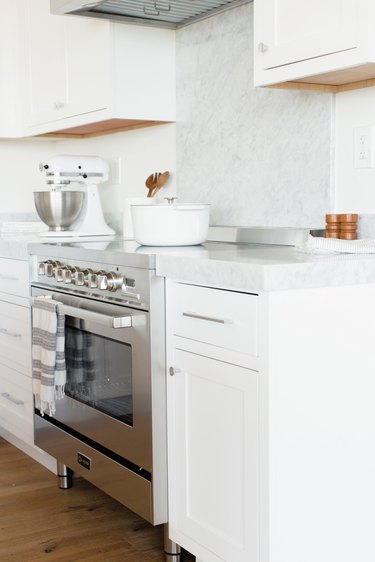 A cast iron pan is a versatile gem. You can use it to whip up a crispy crusted pizza, soft buttered rolls, and braised short ribs just as easily as an apple pie or giant cookie cake. Cast iron can go in the oven, on a range, and even over an open fire. Needless to say, they're durable and about as heavy-duty as they get. But factor in a glass stovetop and things suddenly get tricky.
Here's the thing: A cast iron pan will weigh roughly six pounds while a Dutch oven will go for significantly more. Simply placing one on a glass surface is pushing it, but the moment you add all of those yummy ingredients (think four cups of stock or a whole chicken) its weight instantly multiplies. That heavy load can not only damage and break the glass, but it may also scratch the surface, too.
Most electric ranges feature glass top stoves, unless they're the coiled variety. Now, contrary to popular belief it's not all 100 percent glass, but rather a blend that features a ceramic makeup. Together, the materials form a strong product that can handle extreme temperature changes with one caveat: Drop a hard object on it and it breaks. So while powerful, they can be relatively delicate.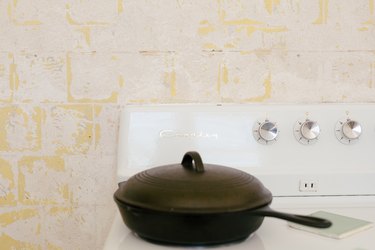 Cast iron pots and pans, on the other hand, are regarded for their immense heat capacity and emissivity — in short, everything in that pan, from top to bottom, is getting cooked to perfection. Tried-and-true believers are adamantly against washing them with soap, which means the vessels always have a nice oily seasoning (Spoiler alert: You don't want that on your glass stove).
So, while the culinary pros don't always recommend using cast iron on glass stove tops because of the potential breakage that can incur, there are a few measures to take to ensure that you uphold the integrity of your range sans a chip or scrape.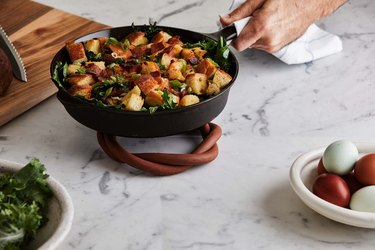 Drop a crumb or a granular morsel on a glass stovetop and even a smooth, flat-bottom skillet will manage to scratch the surface. Now take the uneven base of a cast iron pan, with its porous intricacies, and you quickly realize how problematic that can be. The best workaround is to allow the pan to sit tight on the stove without moving it about unless it's to put it on and take it off the range. But before you start cooking, wipe the bottom of your pan to make sure it's free of bits or oil, which can stain your cooktop.
Be mindful of the burner you're cooking with and find one that's closest in size to the pot you'll be using. Relative to gas ranges — where a vessel has near-direct contact with the flame — electric stoves take longer to warm up because the heat has to travel from the coils to the glass and up to the pan. That, in turn, will also impact cooking time, so be sure to factor that in as well.
Placing an oversize skillet on a burner that is significantly smaller will not only prolong the cooking process but it'll extend the duration of the pressure on the glass top. In addition, if the pan is too large, it will trap the heat beneath it, which can potentially affect the lifespan of your stovetop.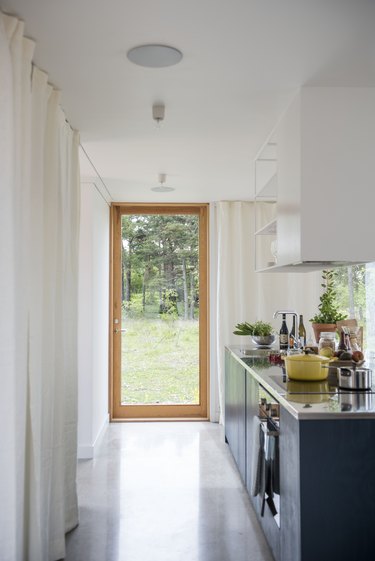 It may not be exactly the same but opting for an enameled cast iron vessel could be the perfect compromise. Brands from Le Creuset to Staub all offer cast iron pots coated entirely in porcelain enamel that, save for the weight, can function similarly to the real deal all the while remaining gentle enough for a glass top.
All things considered, when it comes to placing cast iron on glass stovetops, know that it can be damaging. However, if you take all of the above precautions and cook with extra care, you can certainly get away with it.