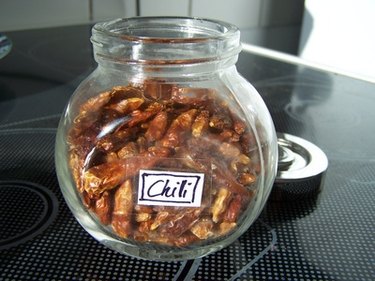 Damages to a glass cooktop can be repaired without a complete replacement. Damages resulting from glass scratches or melted items on the cooktop can be repaired without help from professionals. All repairs must be completed and allowed to set or dry completely before the cooktop is used again for safety's sake.
Removing Plastic Damage
Step 1
Remove the piece of plastic that has melted on the cooktop as soon as possible. Do not try to scratch or scrape the remaining plastic from the cooktop yet.
Step 2
Turn off the burner and, while using an oven mitt to avoid burns, gently scrape the plastic with a metal spatula or razor blade. Apply slight pressure but do not press hard, or the cooktop might be permanently scratched.
Step 3
Scrape the burned debris to a cooled part of the cooktop and use paper towels to wipe away the mess.
Step 4
Use a nonabrasive cleaner recommended for glass cooktops to scrub the remainder of the plastic away after the cooktop has cooled down. This may take several cleanings to complete.
Repairing Glass Scratches
Step 1
Brush clear nail polish into the scratch as deep as needed to fill the spot.
Step 2
Wipe the excess nail polish from outside of the scratch and allow at least 45 to 60 minutes for it to dry. Do not proceed to the next step until the polish is completely dry.
Step 3
Use a nonabrasive cleaner if necessary. If clear nail polish is not available, there are nonabrasive cleaners for cooktops that are available for purchase that will fill the spots as well. Whichever product you use, complete the process and follow the next step.
Step 4
Use a buffing pad on the cooktop, using circular movements across the entire surface.
Step 5
Use a small amount of glass polish on the buffing pad and buff the entire cooktop again in circular movements. Allow the cooktop to dry completely before using.
Cracked Glass Stove Top
Step 1
Unplug the range to replace a cracked glass stove top. You won't need to replace the entire cooktop system.
Step 2
Unscrew the screws in the front and back of the glass holding it down.
Step 3
Remove the air grill, filter, grill grates, aeration pan and cartridges if they are a part of the model.
Step 4
Label and disconnect any wires if wiring is connected in this model, then lift out the glass top.
Step 5
Insert a new glass top and reverse the above directions to reassemble the new system.