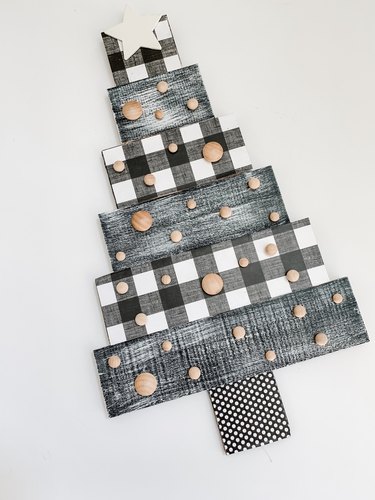 If you're anything like us, you like to get a head-start on brainstorming Christmas decorating ideas. Although we love sleek, shiny, and modern decor for the holiday season, there's also something to be said about going a little more rustic during this time of year.
Enter the humble pallet. Yes, those wooden things you see on forklifts in warehouses. In the last few years, creative crafters have used pallets to create nearly anything, from beds to couches. And guess what? You can even use them to DIY a pallet Christmas tree.
If you're aiming for a cozy, well-loved vibe for the holidays, you can get out those power tools and make a pallet Christmas tree of your very own. Or, you can totally buy them ready-made, too — Etsy is a great source.
Regardless of whether you prefer to put on your safety goggles or whip out that credit card — here are six pallet Christmas trees worth considering.
1. Classic Pallet Christmas Tree
Let's say that you're going for classic ambiance as you gather Christmas decorating ideas. In this case, we recommend a no-fuss pallet Christmas tree, one that showcases the original wood finish without any bells or whistles. This tutorial from DIY Huntress should do the trick.
2. Light-Up Pallet Christmas Tree
OK, so you need a bit more sparkle with your pallet Christmas tree. You can absolutely attach lights to your festive creation, perfect for displaying on the porch and catching the eye of everyone who walks by. We're loving the sweet yet modern look of this pallet Christmas tree crafted by Monica of Mon Makes Things.
3. Black-and-White Pallet Christmas Tree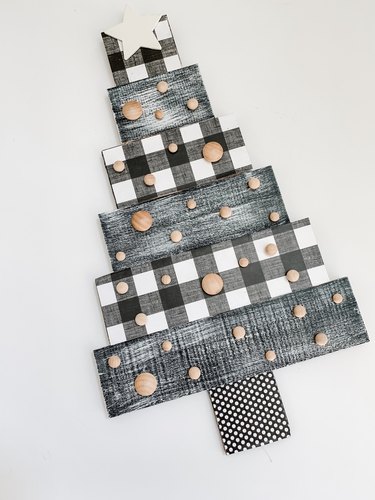 Maybe you're not interested in the natural look of wood when it comes to your Christmas decor. Here, we'll suggest making a pallet Christmas tree or purchasing one ready-made and then covering it in black-and-white scrapbook paper and buttons, which is how Stacey of Wilshire Collections created this patterned number.
4. Painted Pallet Christmas Tree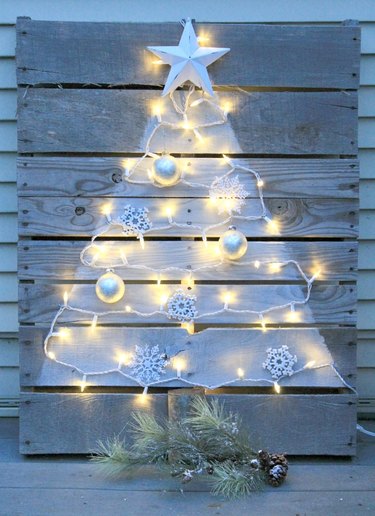 If you'd prefer not to use any tools to create your pallet Christmas tree, you can still get the effect by painting a tree onto a pallet. It's a lot easier if you're not comfortable with the whole woodworking thing, and it looks adorable decked out with lights and ornaments, a look that Linda of Crafts a la Mode perfected.
5. Herringbone Pallet Christmas Tree
To give your pallet Christmas tree a contemporary feel, turn to a herringbone pattern. These trees by Cassity of Remodelaholic look current for a front entryway or standing next to a fireplace.
6. Reclaimed Wood Christmas Tree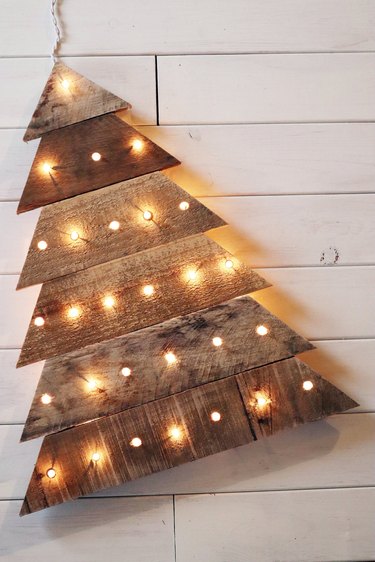 Remember that if DIY isn't exactly your thing, you can still buy a pallet Christmas tree that's already made. The artisans of Etsy specialize in just such a thing, and this twinkling reclaimed version is picture-perfect proof. It would look fab hanging on a porch or lighting up a living room wall.