Things You'll Need
2-by-4 pressure-treated lumber

Handsaw

Hammer drill

Masonry drill bit

1/2-inch metal-sleeve anchors

Wrench

L-brackets

Wood screws, 1 1/4-inch
Tip
You can use a regular drill in place of a hammer drill, but if the concrete is very hard, it will be slow going. Make sure you keep the tip of the drill bit cool by periodically dipping it in water.
If the concrete chips while you are drilling and the hole ends up being too wide for the sleeve, pack it with fresh mortar after you have placed the sleeves in position.
Warning
Do not use concrete nails to attach the kick-plate. These are prone to slipping out even when they seem to be secure.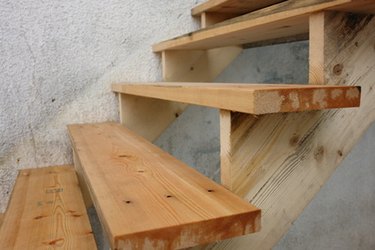 In order for a wooden stairway to be safe, the stringers (support boards) should be securely fastened to both the upper and lower floors. When the lower floor is made of concrete, you will need a special fastener to attach the wood to it unless one has already been embedded for this purpose. Fortunately, there are many such fasteners available that can be used in holes that you pre-drill in the concrete. The most secure fastener uses a metal sleeve that wedges in the hole as you tighten the bolt.
Step 1
Measure the distance from the outside edge of one stringer to the outside edge of the other and use a handsaw to cut a kick-plate to this length from 2-by-4 pressure-treated lumber.
Step 2
Mark the position of the stringers on the concrete landing and set the kick-plate on these marks. Use a hammer-drill and a masonry bit to drill two 1/2-inch holes through the kick-plate into the concrete to insert 1/2-inch metal-sleeve anchors. Drill the holes deep enough into the concrete so that the tops of the sleeves will be flush with the surface.
Step 3
Remove the bolts from the sleeves and slide the sleeves into the holes in the concrete. Set the kick-plate in position and use a wrench to tighten the hex heads of the bolts into the sleeves, affixing the kick-plate onto the concrete.
Step 4
Cut notches out of the front of the stringers with a hand saw so that they fit over the kick-plate. Set the stringers in place and attach them to the kick-plate with L-brackets and 1 1/4-inch screws.
---
Chris Deziel is a contractor, builder and general fix-it pro who has been active in the construction trades for 40 years. He has degrees in science and humanities and years of teaching experience. An avid craftsman and musician, Deziel began writing on home improvement topics in 2010. He worked as an expert consultant with eHow Now and Pro Referral -- a Home Depot site. A DIYer by nature, Deziel regularly shares tips and tricks for a better home and garden at Hunker.com.
View Work