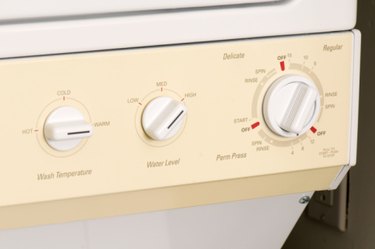 The PAV2300AWW is a two-speed, 10-cycle washer that is designed and manufactured by Maytag. It is meant for use in a residential setting and provides all the standard features needed to accommodate normal and heavily soiled loads. The oversize capacity of the PAV2300AWW means it can also accommodate large loads of laundry.
Features
Mechanical features of the Maytag PAV2300AWW include a two-speed transmission to accommodate heavier loads and a six-point suspension for improved balance and machine stability. Automatic fabric softener and bleach dispensers add fluid only when necessary. The unit also features an automatic lint filtering system, unbalanced spin load compensator that prevents shutdown in the case of an unbalanced or overly heavy load, electric overload protector and a safety spin mechanism that immediately stops the machine if the lid is opened during operation. Maytag's trademark "Big Clean" wash system and "LoadFlex" agitator system allow for improved efficiency when washing large loads.
Washing Options
Users of the Maytag PAV2300AWW can choose from four different water levels and four different water temperature combinations when operating their washer. Available water levels include Mini, Medium, Large and Oversize. Water temperature combinations include Hot/Cold, Warm/Warm, Warm/Cold and Cold/Cold. Specific washing options include warm rinse only, wrinkle-free, delicate fabrics and regular wash.
Dimensions
The Maytag PAV2300AWW measures 27 inches in both width and depth and stands 53 1/2 inches in height.
Warranty
Consumers who purchased a new Maytag PAV2300AWW were given a 12-month warranty on parts and labor. A lifetime warranty on the machine's internal tub is also included.
---
John Vann has been a professional freelance writer since 2008. His articles appear on various websites. Vann is pursuing an Associate of Applied Science in computer networking at Muskegon Community College.