Tip
Call the Whirlpool service repair line at (800) 253-1301 to speak with a live representative and arrange for professional service.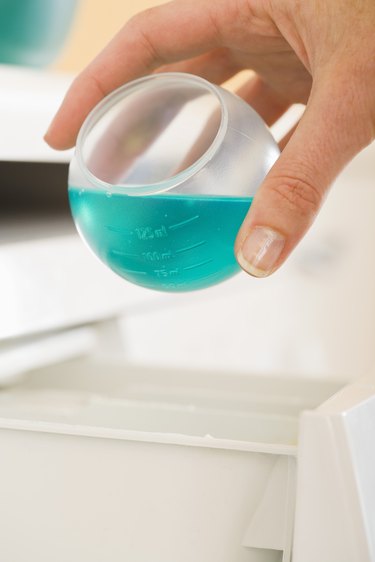 A clogged drain pump in your Whirlpool washer prevents water from draining fully and interrupts the cleaning cycle. The drain pump is only accessible through disassembling your washer, but you can check for clogs by running a normal wash cycle to see if the water is draining. You can fix minor clogs by running your washer through a system wash, which forces water and a powerful cleaning solution through the machine's pump. Heavy clogging requires a professional repairman.
Step 1
Turn the cycle knob on the front of the washer clockwise to "Normal."
Step 2
Push "Start" to fill the washer with water. Do not add clothing when testing for problems.
Step 3
Press "Pause/Cancel" to pause the wash cycle once the washer fills with water.
Step 4
Twist the cycle knob to "Drain/Spin" and push "Start" to switch to the drain and spin cycle. Push "Pause/Cancel" if the washer does not drain and pull out the washer's dispenser drawer.
Step 5
Pour 2/3 cup of liquid chlorine bleach into the bleach cup in the dispenser drawer.
Step 6
Close the drawer, turn the cycle knob to "Clean Washer" and push "Start." During the Clean Washer cycle the water is raised to a high temperature and bleach is dispensed into the washer. The bleach and hot water is drained through the drain pump, and hopefully will break up minor clogs in the pump.
---
A Chicago-based writer, Mario Calhoun has been writing professionally since 2007, with work appearing in local publications such as "Mint Magazine" and "Echo Magazine," Columbia College Chicago's student magazine. Calhoun currently works at Murder Mystery Maniacs, an event planning company. Calhoun graduated from Columbia College Chicago in May 2008 with a Bachelor of Arts in magazine journalism.