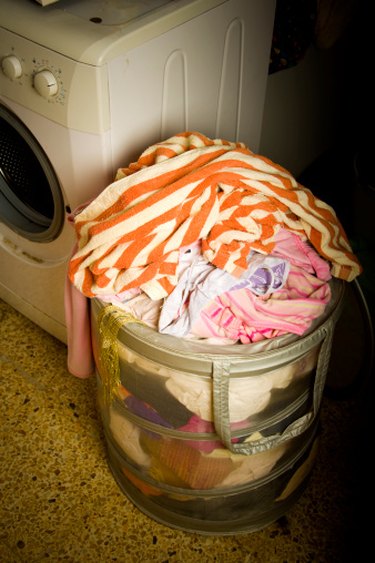 The Kenmore 80's series washer is part of the Kenmore Elite line. It is Energy Star rated for efficiency. The washer is specifically designed to use high efficiency detergent as to help eliminate excess waste and lessen the detergent impact on the environment.
Dimensions
The washer dimensions are 27 inches wide, 38 inches tall and 31 ½ inches deep. When the door is open the entire depth increases to 50 ½ inches. This is a front-loading washing machine so the door hinges outward. The hinge can be either on the left or right side. It is recommended you allow for at least one inch on either side as well as one inch on the top if you are putting the washer in an enclosure or underneath a counter.
Water Delivery
The water heater should be set to deliver hot water at a temperature of 120 degrees Fahrenheit. The hot and cold water faucets should be located within 4 feet of the valves in order for the hoses to reach. The water pressure should be between 20-100psi. For power, the electrical outlet the washer is plugged into should be grounded to protect the washer from power surges.
Drain System
This washer is compatible with the standpipe drain system, laundry tub drain system or floor drain system. The standpipe consists of a pipe that either goes into the floor or the wall and the drainpipe hooks in for the water to empty through. The laundry tub system has a separate "sink" off to one side where the drainpipe feeds into and then the water will drain through the sink. The floor drain is simply a hole in floor attached to a drainage pipe that the pipe from the washer can fit into in order to drain water.
Additional Features
This washer comes equipped with a smart dispenser. The three compartments can hold detergent, fabric softener and bleach. The auto water level adjusts to the size of the load without you having to choose what level you want. The suspension system reduces the shaking of the washer or it going off-balance. It has four shock absorbers and two springs. For the first eight minutes you can add a garment and the washer has a light that will let you know when the time period is up.
---
Pharaba Witt has worked as a writer in Los Angeles for more than 10 years. She has written for websites such as USA Today, Red Beacon, LIVESTRONG, WiseGeek, Web Series Network, Nursing Daily and major film studios. When not traveling she enjoys outdoor activities such as backpacking, snowboarding, ice climbing and scuba diving. She is constantly researching equipment and seeking new challenges.