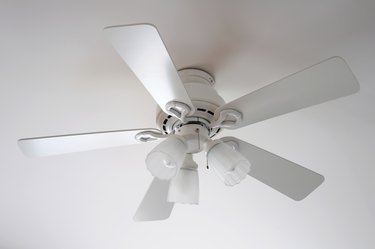 Hampton Bay is a brand of ceiling fans and other appliances sold exclusively through the Home Depot chain. Because the brand is exclusive to Home Depot, the retailer's stores are ultimately the most reliable source for replacement parts and other consumer support issues. Many websites claim to sell Hampton Bay replacement parts, but be wary -- these sites label themselves as consumer information sites and are not related to or affiliated with Hampton Bay in any way.
Hampton Bay Help
First, locate your product's UPC code or model name and number. The UPC code can be found on your receipt, the box the product came in, and in the product's user manual. On Hampton Bay ceiling fans, the UPC code is also located on a sticker affixed to the top of the motor housing. If you cannot find this sticker, take a picture of the product to provide to Hampton Bay. Once you have this information, call the Home Depot customer support at 877-527-0313 or 855-434-2678 to order your replacement part. You can also visit or call a Home Depot store.
---
Home is where the heart is, and Michelle frequently pens articles about ways to keep yours looking great and feeling cozy. Whether you want help organizing your closet, picking a paint color or finishing drywall, Michelle has you covered. If she's not puttering in the house, you'll find her in the garden playing in the dirt. Her garden articles provide tips and insight that anyone can use to turn a brown thumb green. You'll find her work on Modern Mom, The Nest and eHow as well as sprinkled throughout your other online home decor and improvement favorites.
View Work