Things You'll Need
Cleanser

Scrubbing pad

Clear silicone

Caulk gun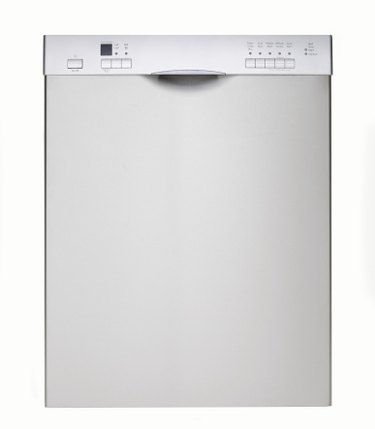 Most dishwashers made from the 1980s to present have tubs that are made of plastic. Years of use and the effects of the heat and detergent can cause small cracks in the surface of the tub. If the cracks are not repaired, water can leak out of the tub and cause damage to flooring and cabinets. Over time, mold can form on the damp floor or cabinets and create a health hazard. Repairing small cracks in a dishwasher tub is accomplished with minimal effort .
Step 1
Open the door of the dishwasher and remove the racks from inside.
Step 2
Clean the area of the of the tub that is cracked using cleanser and a scrubbing pad. Rinse with clean water and let the tub dry for 24 hours.
Step 3
Squeeze some clear silicone onto your finger from a squeeze tube or caulk gun, depending on the style of silicone being used.
Step 4
Wipe the silicone over the area of the crack and 1 inch beyond it in all directions. Smooth the caulk so there are no globs or ridges. Allow the silicone to dry overnight.
Step 5
Apply another coat of silicone and let it dry overnight. This will ensure that the crack is sufficiently sealed to prevent water from penetrating it.
---
Damon Koch has years of writing experience ranging from software manuals to song lyrics. His writing has appeared in software manuals for Human Arc and on the CDs "Small Craft Advisory" and "Impersonating Jesus." He also has worked in building maintenance since 2004. He has attended Lorain County Community College as well as Cleveland State University.