Things You'll Need
Chisel

Concrete resurfacer

Concrete repair caulk

Caulking gun

Putty knife

Hydraulic concrete mix

Plastic bucket

Trowel

Squeegee

Push broom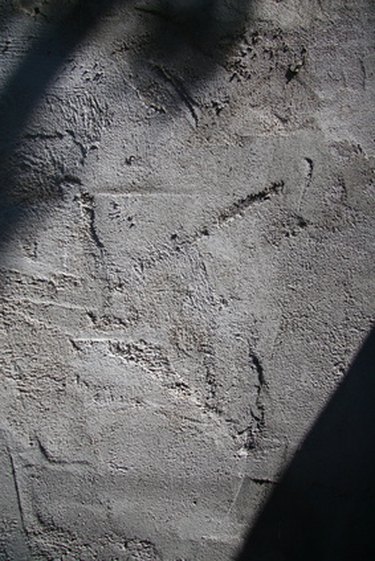 Concrete walls are most common in basements and are prone to water and chemical damage causing discoloration, cracks and leaks. Concrete walls are also used in industrial buildings such as factories and converted downtown lofts. Such walls have been subject to much abuse and become disfigured with hairline cracks, holes and chipping. Resurfacing concrete walls can rejuvenate old brittle walls while sustaining the durability of the structure and safeguarding against further damage from any leaks or deterioration.
Step 1
Remove any loose debris. Use a small chisel to pry out loose concrete bits if necessary.
Step 2
Fill in any cracks and gaps with concrete resurfacer. Use resurfacer for cracks 1/8-inch wide. For cracks 1/2-inch wide, fill in with concrete repair caulk. Insert the repair caulk tube into a caulking gun to squeeze out the agent. Smooth out with a putty knife. Let it dry.
Step 3
Mix hydraulic concrete mix according to the manufacturer's directions. Mix in a plastic bucket.
Step 4
Use a trowel to apply the concrete onto the walls. Press hard and evenly to ensure that all the gaps and cracks are properly filled.
Step 5
Thin the concrete mix with water to a pancake-batter consistency and skim coat the walls. Smooth it out with a squeegee. This will give the concrete wall a smooth texture.
Step 6
Use a push broom across the walls to texture the walls, if desired.
---
Nikki Cash graduated from UCLA with a bachelor's in film/TV, where she won an MPAA Scholarship. Since graduating, she has written and produced an independent feature film starting her career as a writer in 2005. Cash enjoys writing eHow articles with topics ranging from home improvement to crafts.