Things You'll Need
2 New AAA batteries

Honeywell 5000 thermostat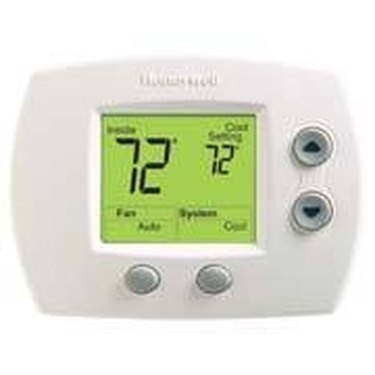 The Honeywell 5000 Pro thermostat is one of Honeywell's most efficient and simple models. It keeps a temperature within one degree of its temperature setting. The Honeywell 5000 (model TH5110D) does not have the ability to be pre-programmed to set temperatures changes at different times. However, it is still necessary to know how to program this thermostat to a set temperature. Follow these simple instructions to comfortably set the temperature of your home.
Step 1
Put new batteries in your Honeywell 5000 thermostat. The thermostat takes 2 AAA batteries. Press the bottom right button once to turn on the backlight of the thermostat.
Step 2
Press the bottom right switch under "System" to select the heat mode. Set the temperature you desire your heat to be set at by pressing the up or down arrow.
Step 3
Press the button again to select the "Cool" mode if the thermostat is also wired to a cooling system. Press the up or down arrows to select the temperature for "Cool."
Step 4
Press the bottom right button to shut the system completely off if you desire. Push the button until "Off" appears in the system window.
Step 5
Press the bottom left button to turn the fan on, off, or to auto. The most common setting is "Auto", which will program the fan to come on when the heating or cooling system is on.
Tip
Always use alkaline batteries as they last longer in thermostats and do not leak, causing damage to the controls.
Warning
Replace the batteries yearly, whether the low battery indicator light comes on or not.
---
A certified nutritionist who majored in health, fitness and nutrition, Traci Vandermark has been writing articles in her specialty fields since 1998. Her articles have appeared both online and in print for publications such as Simple Abundance, "Catskill Country Magazine," "Birds and Blooms," "Cappers" and "Country Discoveries."