Things You'll Need
User's manual

Adjustable wrench or the wrench supplied with the washer

Flashlight or headlamp

Rubber foot pads (optional)

Sturdy wooden planks (optional)

Barn or stall mat (optional)
Warning
Attempting to repair your LG washer, including taking it apart, may void the warranty.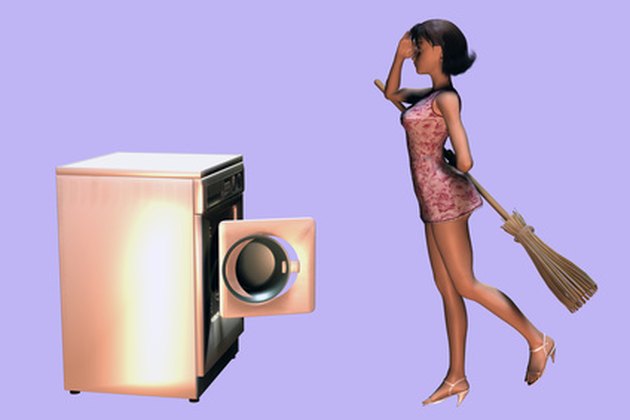 The LG Tromm front-loading steam washing machine is a high-end machine with consistently strong reviews for its cleaning power, solid build and efficient use of energy, water and detergent. Some owners report excessive vibration and noise, especially during the spin cycle. If your LG Tromm washer makes you think the floor is going to cave in, you can tame the vibrating beast with some simple instructions.
Step 1
Make sure the vibration is a consistent problem. If your LG Tromm washer only vibrates during some laundry loads and not others, the problem may have to do with what you are washing. If your load is too small, the drum can easily become unbalanced as the few things you are washing collect on one side. Simply rebalance the load and continue the wash. If you are washing clunky items, such as tennis shoes, put the shoes in a mesh bag or zippered pillowcase, and make sure you add some rags or towels to the load to balance it out.
Step 2
Level the machine. Perform what LG customer support calls the "diagonal test" to make sure your machine is level. Try to rock the LG Tromm washer diagonally. If you can tip it, use a wrench to adjust the feet of the washer or the platform base if the machine is on a pedestal. Consult the user's manual if you need help with this.
Step 3
Add cushioning. Put rubber or felt pads under the feet. If pads do not do the trick, you may need to use thicker, denser padding to dampen the vibration. Look for a barn mat (or "stall mat") at a farm supply store. This thick rubber mat is used as a liner for the floors of horse stalls. If it can support the weight and wear-and-tear of a horse, it will certainly stand up to your LG Tromm washer.
Step 4
Put your washer on a sturdy foundation. If the floor under the LG Tromm washer is weak, shaky or not level, make a platform out of strong wooden boards and put the washer on top of this platform. Add rubber foot pads or a section of barn mat for maximum vibration control.
Step 5
Check springs and shocks. The LG Tromm washer has suspension springs and shock absorbers that can contribute to vibrations if they have come loose. Call a service technician or LG customer support to have these checked. If your washer is no longer under warranty, or you are comfortable possibly voiding the warranty, check these yourself by taking off the top and back panel.