Things You'll Need
Sandpaper

Plastic wedger or stirring stick

Partall Paste #2

Buffing pad

TR 301 and 311 gelcoat

Resin

Cutting blade

Bristle roller

1 oz. chopped strand mat
Tip
Wait until each coat is dry before applying an additional coat of resin.
Warning
Don't use gelcoat with wax in it.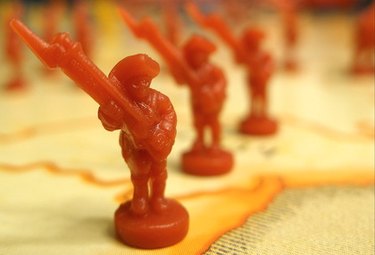 A fiberglass mold is rather simple to make, but it takes a few days. The idea of a mold is to make a replica of the item that you need. You will be able to reuse the mold many times after. It will be easier and take less time if you are able to find a mold of your liking at a company that specializes in making fiberglass molds.
Step 1
Develop a plug. A plug is an article that is used to develop a mold. It is usually made out of wood, plaster, putty, sheet metal or Formica. The plug will need to be in the shape and the right dimensions that you want the mold to be.
Step 2
Prepare plug. If the plug has many opene pours, such as wood, plaster or putty, then it will need to be filled in with resin or lacquer. Buff and seal the plug with TR-301 and TR-311. If plaster is being used, you will need to oven dry it first and then seal it. Apply a mold release which is Partall Paste #2. After applying the mold release, wait until it dries before putting on another. You will apply up to five coats. Buff it each timel.
Step 3
Spray polyvinyl alcohol (PVA) to the plug. Apply up to three coats and allow at least 30 minutes to dry.
Step 4
Cover the plug with MEK peroxide hardener. Apply a gelcoat with a bristle roller on the plug that will make the fiberglass mold surface. The gelcoat needs to be wax free. Consider using a tooling gelcoat if there are many parts that will need to be removed from the mold. This will enhance the longevity of the mold. There will need to be at least two coats applied with 4 hours of drying in between coats. Allow at least 24 hours to fully dry.
Step 5
Apply the skin coat. This will be about 1 oz. of fiberglass chopped strand mat that is thin enough for you to remove all the air pockets. Apply a general purpose polyester resin with a roller and spread it evenly. Make sure there are no white fibers and air bubbles left before letting it dry. Allow at least one day to dry before adding another layer of resin on mold. Apply a total of three layers.
Step 6
Remove the fiberglass mold. For the fiberglass mold to hold its shape, it is recommended to leave the mold to dry for several days after the final coating of resin is added. Cut off excess resin or fiberglass with a metal cutting blade. Sand gently until you can see the line between the mold and the plug. Use a plastic wedge or stirring stick to get between the mold and plug, and then separate.
Step 7
Sand the mold with a 220 grit working up to a 600 grit. Apply Partall Paste #2. Use a heavy duty cleaner and then a sealer glaze in order to get the cleanest appearance.
---
Laura Hageman has written varied articles on real estate to entertainment topics for the past three years. Hageman wrote a romantic comedy novel entitled Her Desire listed on ebookmall.com. She has written for Web sites such as CurrentForeclosures and Triond over the course of 7 years. Hageman holds a Bachelor's degree in Arts.