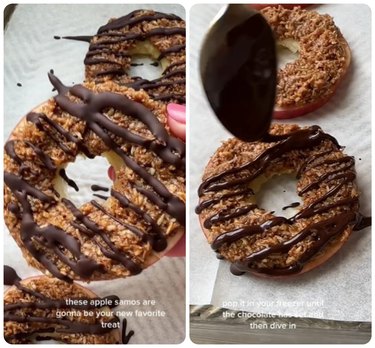 The next time you're craving Girl Scouts cookies (more specifically, Caramel de Lites aka Samoas) you might want to start slicing apples. As it turns out, you can turn the fruit into cookie-inspired treats, as proven by TikTok user and cookbook author Brittany Mullins.
After all, the process for making copycat Caramel de Lites from scratch can be quite time consuming. (Writer's note: We've made them before, so we would know!) That's because you need to make the cookie dough, which needs to be chilled, rolled, ‌and‌ cut into disks.
And then there's the topping, which involves melting caramel and other ingredients, a step that can be come a potentially sticky mess.
That being said, although worth it, baking homemade Caramel de Lites might not always be practical — especially if you're short on time. Luckily, that's where Mullins' idea comes in.
Basically, the recipe uses apples in place of cookies. The first step is to cut an apple into thick slices, then cut out the cores to create doughnut shapes.
Next, in a bowl, stir shredded coconut, almond butter, and maple syrup until combined. You can also use other nut butters, like cashew butter, as well as other sweeteners, like agave syrup or honey.
Spread the mixture on the apple rings, then drizzle melted chocolate on top. Mullins recommends freezing them for five to 10 minutes to harden the chocolate, but honestly, you can totally eat them right away if you're feeling impatient.
Of course, there's nothing wrong with the real deal — Caramel de Lites are ‌so‌ delicious. But if you're looking for a quick DIY alternative, craving a sweet snack, or following a gluten-free diet ... these apple versions will fit the bill.
Not to mention, the 5-ingredient recipe is perfect if you need to use leftover apples.
To watch the step-by-step video, check out Mullins' TikTok video.