During the summer months, no-bake desserts can be an actual lifesaver. After all, when you simply just ​can't​ with the oven, there's nothing better than creating a sweet treat without heat. Luckily, there are plenty of no-bake recipes to choose from — including this blueberry cream freezer pie.
To make this delectable dessert, all you need to do is blend blueberries, yogurt, cream cheese, and sugar in a food processor. Next, fold in the whipped cream, then freeze the mixture in a graham cracker pie crust. After just a few hours, you'll have a homemade blueberry cream pie that's equal parts beautiful and cool.
What's more, if you're making this freezer pie around July 4th, you can garnish the pie with strawberries, blueberries, and whipped cream to create a red, white, and blue theme. Pretty fun, right?
One pie will yield about eight servings, depending on how you cut it.
How to Make Graham Cracker Pie Crust
Things You'll Need
1 1/2 cups graham cracker crumbs

1/4 cup light or dark brown sugar


6 tablespoons unsalted butter, room temperature, sliced or cubed

Unsalted butter or baking spray, for greasing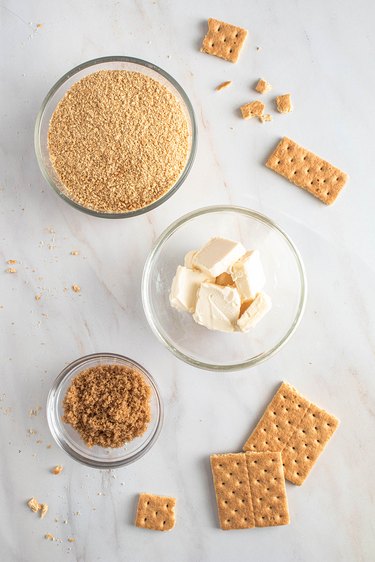 Tip
To prepare the crumbs ahead of time, break up the graham crackers and add them to a blender or food processor. You'll need approximately 10 graham cracker sheets to make 1 1/2 cups of crumbs.
Step 1
In a food processor, combine the graham cracker crumbs, brown sugar, and butter. Process until combined and the crumbs clump together like wet sand.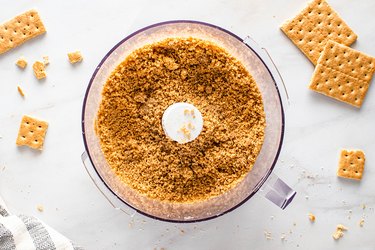 Step 2
Grease a deep pie dish. Press the graham cracker crumb mixture along the bottom and sides, making sure to create a flat, even layer. You can use the bottom of a measuring cup to do this.
Place the pie crust in the freezer for at least 30 minutes.
Tip
If you'd like to avoid using the oven at all costs, follow the recipe as is. However, the crust — which is normally baked — might not hold together as well. That being said, if keeping the crust together is a top priority, you can bake the crust at 350 degrees Fahrenheit for 10 to 12 minutes, or until golden brown, and let it cool completely. Another option is to use a pre-made, store-bought graham cracker crust to skip the oven altogether.
How to Make Blueberry Cream Freezer Pie
Things You'll Need
2 cups fresh blueberries

1 cup plain yogurt

1/2 cup granulated sugar

1 teaspoon vanilla extract


8 ounces cream cheese, softened

8 ounces frozen whipped topping, thawed

Blueberries and strawberries, for topping

Shredded or grated coconut, for topping


Whipped cream, for topping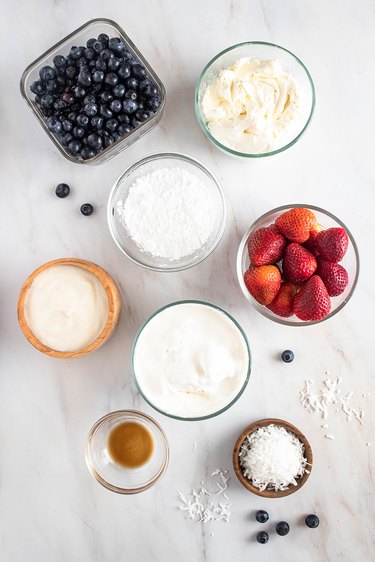 Tip
You can also use thawed frozen blueberries.
Step 1
In a food processor or blender, add the blueberries, yogurt, sugar, and vanilla extract. Puree until just combined and the blueberries are pulverized.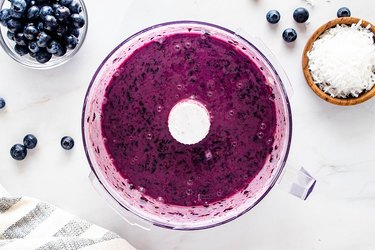 Step 2
Add the softened cream cheese. Blend until combined and no chunks of cream cheese remain. The mixture should be thick and somewhat fluffy.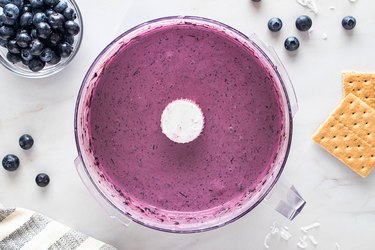 Step 3
Transfer the blueberry mixture to a large bowl. Add the whipped topping and fold it in with a spatula. The whipped topping will likely start to melt, but this is okay.
To give the pie a marbled appearance, fold the mixture several times until you like how it looks. But if you want to the pie to have a solid lavender color, keep folding the mixture until it's completely combined (but try to avoid overmixing).
Step 4
Transfer the blueberry filling to the cooled pie crust. Use a spatula to smooth out the top.
Cover and freeze the pie for at least four hours, or until solid.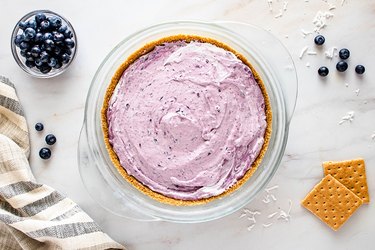 Step 5
Before serving, let the pie sit at room temperature for 20 minutes. Top with strawberries, blueberries, whipped cream, and/or shredded coconut just before slicing.
However, keep in mind that whipped cream melts quickly, even when it's on a cold pie. To prevent this, you can add whipped cream to each individual slice just before serving.