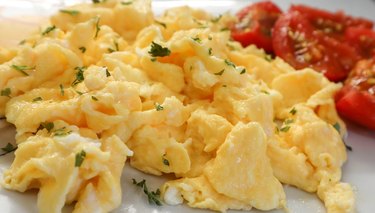 If you eat eggs, you've probably noticed that there are endless ways to cook the staple food. One popular method is to poach them in water ... but have you ever tried ‌scrambling‌ them in water instead?
Per Totally the Bomb, we came across a TikTok video demonstrating the technique. Simply whisk eggs in a bowl, bring a pot of water to a boil, then pour the eggs into the pot. After a few minutes, the eggs will become fluffy and tender, which you can then scoop out of the pot.
At first glance, the technique might sound strange, but it makes a lot of sense. For starters, the water ensures the finished eggs aren't dry or overcooked. It's also similar to egg drop soup, which involves cooking whisked eggs in hot liquid.
BTW, you might want to use a slotted spoon to remove the water-cooked scrambled eggs. This will limit the moisture on the eggs and avoid a soggy breakfast.
We can see this trick being useful for making scrambled eggs when you've run out of butter or oil. The more you know!
Did you know it's possible to make a perfectly round egg by using an onion ring? This is helpful if you're making breakfast sandwiches with English muffins and want to stop the eggs from spilling over the edges.
For a breakfast timesaver, try this mason jar omelet idea. It involves greasing glass jars and adding omelet ingredients, like vegetables and whisked eggs. When you're ready to eat, just microwave the jar for a minute and a half or dump the contents in a pan.
Finally, if you need to prepare a large number of hard-boiled eggs, try cracking eggs into a loaf pan and cooking it in the oven. It's the ultimate no-peel egg hack for large batches of egg salad.