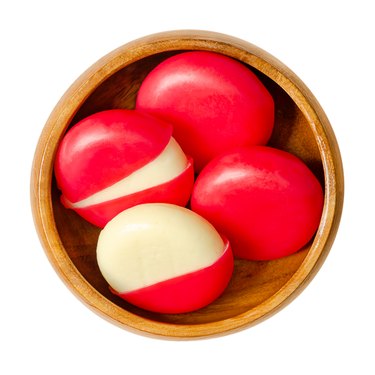 It goes without saying that Babybel cheese is delicious on its own. However, it's just as tasty when paired with classic ingredients like sliced meat, crackers, and olives. (In other words, it makes for the perfect grazing board component.) But if you're looking for something even more satisfying, try making crispy Babybel cheese.
The snack, which is also known as Babybel cheese bites or Babybel cheese dippers, is particularly popular on social media. Here's how to make them: Coat the Babybel cheese in flour, then dip it in whisked egg. Next, cover the cheese in bread crumbs, then fry them in hot oil for about two minutes on each side. This will create a wonderfully crispy and golden brown coating.
You can also cook the cheese in an air fryer at 320 degrees Fahrenheit for three to four minutes, as shared by Swan Brand UK on TikTok.
Once fried, the Babybel cheese will taste similar to mozzarella sticks (or even better). You can enjoy them as is or dip them in marinara sauce, though we could see them pairing well with barbecue sauce too.
Other tasty ways to make crispy Babybel cheese:
As with many popular TikTok recipes, there are many ways to make the Babybel cheese dippers. One option is to replace the bread crumbs with crushed cornflakes or Doritos, as user @sweetportfolio did. You could also use gluten-free flour or bread crumbs, if needed.
To infuse the snack with even more flavor, add a sprinkle of seasonings to your bread crumbs. Examples include:
Italian seasoning (or just use Italian bread crumbs)
Garlic powder
Onion powder
Ground black pepper
Paprika
Cajun seasoning
For an even cheesier snack, toss the bread crumbs with nutritional yeast or grated Parmesan cheese.