TikTok account About To Eat is our source, sharing a video that reveals an easy way to protect yourself from burning your hands on hot pot lids while cooking. "This is something that I noticed while filming with Chef Motokichi in Kyoto, Japan," says one of the About To Eat team members. They then go on to explain how Chef Motokichi would wedge large corks under the handles on top of pot lids to provide a safe means of holding the lid in order to avoid touching the hot metal itself.
"When it's hot on the stove, instead of grabbing the handle, you just pinch the cork. The cork never gets hot," they demonstrate.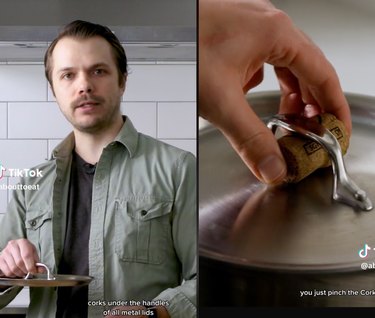 But not any old cork will be the right size. Your typical slender wine cork likely won't be thick enough for standard-size pot handles. Instead, the About To Eat crew recommends saving corks from sparkling wine specifically since these corks are a bit fatter and are the perfect circumference for wedging under pot handles. Who knew?
More Helpful TikTok Home Hacks
Can't get enough mind-blowing TikTok hacks? Check out a few more of our favorites below!