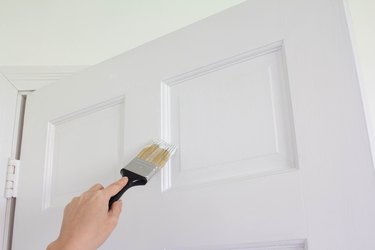 There's nothing like a paint touch-up to refresh and revive a wall. The only catch? If you don't have the original paint on hand, it can be frustrating to buy a can to cover a tiny spot. Not to mention, paint cans can take up a lot of space, making them a nuisance to store.
Fortunately, TikTok user @makingseamisthome has found the perfect solution: fillable paint pens. "They come with these syringes that you use to get the paint into the tube of the paint pen, making it super easy [to fill]," explains the content creator.
Next, you attach a brush top to the pen. "It reminds me of that 90s glitter lip gloss ... you know what I'm talking about," says @makingseamisthome. (We do!)
To use the paint pen, simply twist the bottom, which will make a satisfying clicking noise. The mechanism will push the paint through the brush, which you can then use to touch up surfaces.
But wait, there's more: The paint will last up to ‌seven‌ years in the pen, given it's stored correctly. So cool.
Of course, you're not limited to wall paint touch-ups. The tool can also be used for filling in spots on furniture, tables, and other painted objects.
If you're interested in the fillable paint pens, you can buy them on Amazon. One package contains two pens and costs $19.99.
The next time you to need to paint stair spindles, ditch the paintbrush and use an old sock (while wearing protective gloves, of course). By dipping the sock in the paint, you'll essentially create an applicator that can be wrapped around each spindle, allowing you to finish the job in half the time.
You can also use caulk to paint perfectly straight lines. This trick is especially useful if you're out of painter's tape or trying to use up leftover caulk.