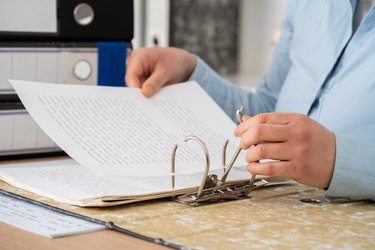 What do you usually do with old school binders? If you're like most folks, you probably toss them in the trash or donate them to thrift stores. Or maybe you repurpose them to hold random papers or craft supplies. But what if you could turn a binder into ... chic home decor?
In a recent TikTok video, Sarah Teresinski proved that this is totally possible. In fact, her TikTok demonstrated not one ... not two ... but three ways to reuse different parts of a binder.
For the first project, she removed the rings from the two school binders, then used the actual binders as frames.
To do this, she slipped artwork into the front, side, and back sleeves, then hung them on her wall. (You could even use pretty scrapbook paper instead of artwork.)
The second project involved attaching the rings, using nails, to the inside of her bathroom cabinet door. She then opened up the rings, turning the contraption into a simple curling iron holder.
For the third upcycle, Teresinski sanded the binder rings and spray painted it matte black. She then attached the binder rings to a wooden cutting board — which had a matching black handle — by using finial caps from the top of a lamp.
Finally, the content creator hung up the cutting board. The result is a beautifully handy key holder.
As one user suggested, you could even install the cutting board holder on the back of your closet door for scarves or belts. We bet it would make a fun necklace holder, too.
Who knew binders could be so stylish and versatile? If you're in school (or have kids in school), be sure to hold on to any old binders. You could also buy one at the dollar store or find them at some thrift shops.