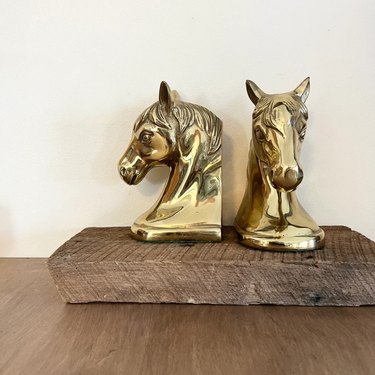 When it comes to functional home decor, you can't go wrong with bookends. Not only do they offer support for books on shelves or countertops, but they can also double as stylish decor, depending on the design. With that in mind, have you ever thought of using bookends for things ‌other‌ than books?
As @redeux_style recently proved on TikTok, bookends can be super useful beyond the bookshelf. Below, we shared a few of her clever suggestions, along with some of our own. Something tells us you'll be inspired to keep an eye out for bookends the next time you're thrifting!
1. Use one as a door stopper.
Long gone are the days of boring triangle door stoppers. For a sturdy and stylish option, use a bookend instead.
Heavier versions, such as those made of brass or stone, work best for this technique. You might also want to add self-adhesive rubber pads on the bottom to prevent slipping.
2. Store towels in the bathroom.
For a creative way to display face towels, place them in between two bookends. This is especially lovely for guest bathrooms or bedrooms.
3. Display napkins in the kitchen.
The next time you're entertaining a crowd, ditch the unattractive napkin holder and use a pair of bookends instead. It will instantly spruce up your table or countertop.
4. Use bookends as a decoration.
One of the simplest ways to utilize bookends is to display them as decorative pieces. This is especially ideal for creating a cohesive look, as you can separate the bookends and use them in separate rooms.
5. Store accessories between the bookends.
Are you on a mission to organize your closet? Reach for a pair of bookends. They're excellent for storing items like clutches, small purses, and wallets.
6. Use them to store records.
If you collect vinyl records, bookends can also be used for storage. This is helpful if they don't fit in your bookshelf and need to be stored in a more open space.
7. Hold important papers between the bookends.
Need a file holder or rack? Try using a pair of bookends instead. It's a great alternative to typical office supplies and allows you to easily access papers, folders, or mail.