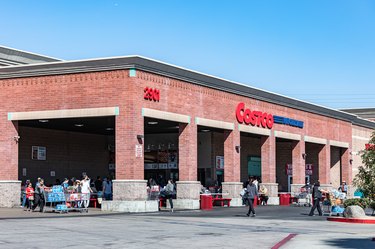 Just when we thought we've seen it all, Costco swoops in with the ultimate treat: macaron brownies. The hybrid item is by the brand Le Chic Patissier, and it's been a hit with shoppers so far.
According to Costco Buys on Instagram, the product consists of vanilla cream caramel macarons stuffed with chocolate brownie chunks. They're also made of cage-free eggs and non-GMO ingredients, per Le Chic Patissier on Instagram.
One package costs $10.99 and includes four pieces (which happen to be quite big, by the way).
"They are soooo good!" said an Instagram user who has already tried them. Another person rated them 10 out of 10, while one shopper called them "sinful."
Worth mentioning, the macaron brownies are super sweet, according to folks who have tried them. "Make sure you have them with milk or something, because they are very, very sweet," advised one shopper. Good to know.
There's just one catch, though: The macaron brownies may not be available at all Costco locations just yet. According to the Le Chic Patissier Instagram page, they're currently available at select Costco locations in Texas, as well as the Northeast, Southeast, and Midwest. It's unclear when and if the item will land at other warehouses.
Luckily, it's possible to check the stock of your local Costco by calling advance. Simply give the employee the treat's item number — 1716759 — and they can let you know.
Other Costco desserts to try:
If you're unable to find the macaron brownies at your local Costco, try looking for the tuxedo chocolate mousse cake instead. The dessert is made by the Costco bakery and features layers of chocolate cake, white chocolate mousse, chocolate mousse, and brownie chunks.