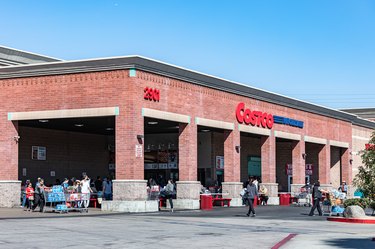 When it comes to chocolate-covered fruits, berries tend to steal the show. Just take a look at the classic chocolate-covered strawberries and viral chocolate blueberry bark. But what about tropical fruits ... like mango, maybe? If you're salivating just thinking about the combo, you'll want to visit Costco soon.
The warehouse recently brought back its Kirkland Signature Dark Chocolate Covered Mangoes, according to @costco_empties. The snack is described as a "delectable fusion of unsulfured dried mangoes from the Philippines and responsibly sourced dark chocolate," per the product packaging.
The chocolate is sourced via The Sassandra Program, an organization co-created by Costco. The program strives to source high-quality cocoa beans using sustainable and ethical methods, which is pretty darn awesome.
In previous years, Costco shoppers have raved about the item. "[The] first time I had them I couldn't believe how good they were, so that same week, within days actually, [I] went and bought three more bags," said one user in an older Reddit thread. "You will finish these in two days. I guarantee it," commented another person in the same thread.
Why dark chocolate, you ask? According to folks who have tried the snack, the bitterness of dark chocolate offsets the sweetness of the dried mango. That being said, some folks did find the snack to be too sweet — so if you already find dried mango to be sweet on its own, keep this in mind.
However, if you're intrigued, you'll be glad to know that each bag of Kirkland Signature Dark Chocolate Mangoes contains a whopping 1.27 pounds of tropical goodness. What's more, one bag costs $9.99, which is a great deal.
To check if the product is back at your warehouse, call Costco before stopping by. The item number is 1410781.