At first glance, the combination of vanilla and cheese might sound strange ... but Trader Joe's is here to change your mind. The retailer recently dropped a new vanilla-infused cheese, and shoppers are super intrigued
"Over a few weeks of aging, the cheese develops notes of toasted caramel, coconut, and nutmeg, and the vanilla bean speaks elegantly dot the edible rind," states the product page. The result is a slightly sweet cheese that's sure to shine on your next charcuterie board.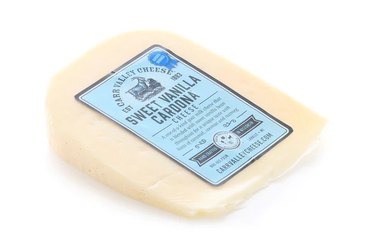 The cheese is priced at $5.49 per ounce, so the exact price will differ depending on the size of the wedge. It's also a limited-edition item, so it won't be around forever.
How to eat vanilla cheese:
On Reddit, shoppers have been sharing ideas on how to enjoy the cheese. Here are some delicious suggestions from Trader Joe's and Reddit users:
With jam on a buttery cracker or in a grilled cheese
Paired with figs, grapes, or berries
Drizzled with honey and fruit preserves
Paired with a salted caramel chocolate bar (yum)
On toast with cinnamon and honey
With a glass of merlot
Shredded on top of vanilla ice cream
One shopper is even planning to add it to mashed sweet potatoes, as they typically add vanilla and goat cheese to the dish anyway. Talk about a tasty twist.
Other Trader Joe's items:
Apparently, Trader Joe's is on a roll with unique cheeses lately. The retailer is also offering baked lemon ricotta cheese, which is perfect for spring. It's especially great with graham crackers, as the combo creates that classic cheese taste.