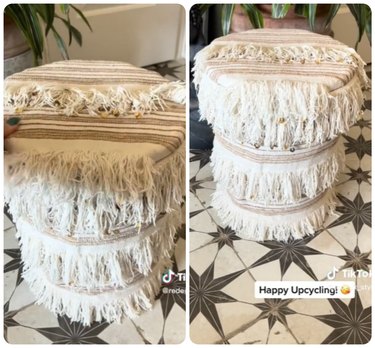 This isn't just any old ottoman, though. Thanks to the content creator's unique approach, it's actually super stylish and attractive.
To make the piece, @redeux_style removed the handle from a plastic bucket. Next, she wrapped an old fringe blanket around the bucket using hot glue. (The blanket had a stain in the corner, making it a great candidate for this project.)
While gluing the blanket to the bucket, the content creator made sure to line up the bottom edge. She also trimmed the blanket along the top, leaving seven to eight inches of fabric. This extra material was then folded over the edge and glued down.
Finally, @redeux_style glued additional fabric around the bucket's lid and concealed the underside with a circular piece of spray painted cardboard. The cardboard is from — wait for it — a box of frozen pizza.
And just like that, a beautiful storage ottoman was born.
How to customize your DIY storage ottoman:
If you don't have an old blanket on hand, visit your local thrift store or flea market. It's also worth checking out stores like TJ Maxx and HomeGoods for affordable options.
Additionally, as @redeux_style notes, other materials work well in place of blankets. Some examples include:
Pillowcases
Sweaters
Jackets
Towels
Thin rugs
Window or shower curtains
Upholstery fabric
Another option is to cover a bucket in plain fabric and hot glue strips of fringe trim. Anything goes when it comes to DIY!