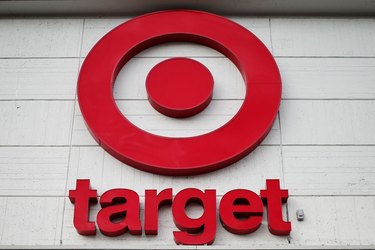 Calling all snack aficionados! Per Instagram user @targetdoesitagain, Target recently brought back its collection of Favorite Day Easter-themed trail mixes, just in time for your spring festivities.
The limited-edition trail mixes are available in four (yes, four) varieties: Bunny Bait, Spring Shimmer, Caramel Bunny, and Spring Clover.
Bunny Bait features a combo of honey-roasted peanuts, white chocolate-covered pretzel balls, pastel-colored M&Ms, confetti cookie pieces, white chocolate-covered raisins and marshmallows.
Spring Shimmer is made of spring candy corn (who knew that was a thing?), shimmer pretzel balls, milk chocolate peanut butter-flavored cereal squares, roasted salted peanuts, raisins, and egg-shaped candies.
Meanwhile, in Caramel Bunny, you'll find roasted peanuts, white chocolate pretzels, caramel-flavored chocolate chips, white chocolate caramel cups, white chocolate peanuts, and pretzel twists.
As for Spring Clover? In this green-themed trail mix, you'll find pastel sprinkles, peanuts, milk chocolate peanut-flavored cereal squares, mini peanut butter cups, roasted salted and coated peanuts, and white chocolate cereal.
And while all four varieties sound mouthwatering, Bunny Bait seems to be particularly popular. "Bunny bait is so good!! [It's] so addicting ... " said one person on @targetdoesitagain's Instagram post. "I wait all year for bunny bait to come back," commented another shopper.
The snacks are packaged in pretty pastel resealable bags and contain eight ounces of crunchy goodness. Each one costs $4.49, though the exact price might vary by your location.
Other limited-edition Easter items at Target:
This year, Favorite Day at Target is offering strawberry-covered and milk chocolate-covered pretzels for spring, according to @targetdoesitagain. Both versions are studded with pastel sprinkles and cost $2.99 each.
According to Instagram @targettakesmypaycheck, Favorite Day has also released Easter egg sugar cookie kits, smashable egg candy kits (so fun), and spring chick cupcake kits.
Clearly, Target is the place to be this spring!