Babybel is up there as one of the most adorable on-the-go snacks — who wouldn't want their own personal wheel of cheese? As a staple in refrigerators, school lunch boxes, and on charcuterie boards everywhere, the brand hasn't needed to do much in order to stay on cheese lovers' radars. However, after nine years, Babybel has finally added a new flavor to its cheese lineup.
After nearly 15 months of product development, according to a press release, the brand has announced the birth of Mini Babybel Monterey Jack. The taste is described as mild with a slight sweetness that offers four grams of protein per serving.
In addition to the new Monterey Jack, the brand has reformulated its Mini Babybel Mozzarella to have a creamier texture and a more authentic mozzarella taste.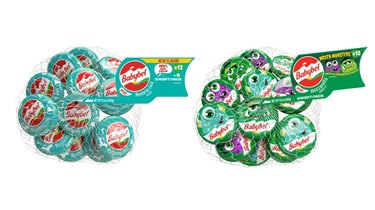 "The adults and families who love Babybel products are our number one priority, and as their needs change, so do we by evolving our portfolio offerings," said Melanie Nemoy, brand director at Babybel, in a press release. "Consumers are at the heart of our business decisions, particularly when it comes to new product varieties or reformulations. We sought out their feedback to bring forward Monterey Jack and to improve the Mozzarella that you can try on shelves shelf today."
The two mini cheeses join the rankings of other tiny wheels like white cheddar, Gouda, and a plant-based cheese alternative. You can grab a 12 pack for yourself at your local grocer for $7.99.