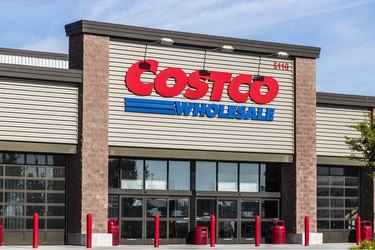 Just in time for your St. Patrick's Day celebrations, Costco is offering fun and festive shamrock-shaped ravioli in green and white for a limited time. Spotted by Instagram user @costcobuys, the four-leaf holiday dish features a five-cheese blend of aged Irish cheddar, shredded mozzarella, white cheddar, ricotta, and Parmesan. Best of all, the pasta cooks in just three minutes. The bulk retailer is currently selling two-packs of the pasta for $9.99.
With this easy and tasty dish, everyone can get in the spirit of St. Patrick's Day — whether you're looking for a unique side dish or a delicious entrée, this ravioli is sure to please. Top it off with a creamy Alfredo sauce and a sprinkle of Parmesan cheese for the perfect finishing touch.
For something a little different, the pasta's package even includes a recipe for an Irish vodka sauce. Serve with some green vegetables for an extra pop of holiday color, or go all out with a full St. Patrick's Day-themed feast.
As the star of your St. Patrick's Day meal, the shamrock-shaped ravioli will certainly make a great impression. However, adding some additional Irish-inspired dishes will really help to round out the meal. For the perfect pairing, try serving some savory corned beef and cabbage or some Irish soda bread. You could also add in a few less obvious choices like beef and Guinness stew.
Of course, if you really want to make others green with envy, end the evening with a homemade Shamrock shake for dessert.