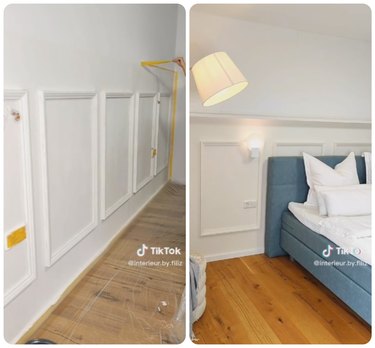 Just when you thought you've seen every IKEA hack, a content creator shows up with totally unique idea. For example, on TikTok, user @filiz.interior created wall treatments using empty IKEA frames — and the result is stunning.
For the project, @filiz.interior used Edsbruk frames from IKEA. The collection includes frames in many sizes and thicknesses, so you'll be sure to find something that works for your space.
To transform the frames into wall panels, the content creator started by removing the glass and inserts. Next, they sanded down the frames and added a coat of white paint. After adhering the frames to the wall with glue, they painted both the wall and frames in an off-white color.
Finally, @filiz.interior added a slim top shelf above the panels to complete the look.
Now, as many people pointed out in the comments section, creating the wall panels would be cheaper with molding. But if you don't have the appropriate tools — and you have the budget to buy the frames — this approach might be just what you need. The same goes if you're simply looking for an easy and quick solution.
Keep in mind that you don't even need to use IKEA frames. As one person commented on TikTok: "I have a bunch of these frames from Goodwill. I'm going to try this!" In other words, if you're able to find other frames that fit within your budget, don't hesitate to use them instead.
Other ways to make easy wall treatments:
If you're looking for another easy DIY wall panel idea, try using flexible molding, or rubberized wooden trim. This technique is perfect if you're looking for more organic shapes, as seen in these DIY arch wall treatments by @oliveandoakhome on TikTok. You could even add multiple rows of molding if you prefer more texture and depth.