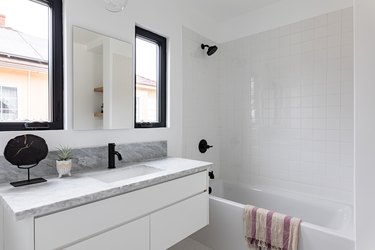 Shower wall panels and surrounds are simple alternatives to tile, and they are typically a good DIY home improvement project for most handy homeowners. These bathroom systems are designed to be installed with a minimum of fuss, and they are a popular choice for many different situations. Shower panels and surrounds come in a variety of materials and configurations. Some of the systems offer optional customizable features, while others have extras built right into the design.
A shower wall panel or surround differs from that of a tub system in that it is a longer design, meant to reach all the way down to and integrate with the shower base. Tub panels and enclosures stop at the tub. This is an important distinction to remember when browsing different options so that the correct size is purchased.
Why Choose a Shower Surround?
The first decision to be made is whether a shower panel system or a shower surround is the right choice for the space. Probably the best reason to choose a shower surround instead of tile is that it's easier to work with. Tiling a shower requires a significant amount of material, layout skills, specialized tools and grout. There are many different steps involved, and a moderate amount of skill is needed to tile that much space and make it look good.
Contrast that with shower panels and surrounds, and there is a big difference in the amount of work involved. Panels can sometimes be ordered to fit the space perfectly, and if that isn't possible, they can be easily trimmed to fit the size of the area. Special tools aren't really necessary, and DIY enthusiasts who have a little bit of patience and who can follow directions should be able to do this type of installation pretty easily.
Another consideration is cost. While not all shower wall panels or surrounds are inexpensive, there are many that are cheaper than a large installation of tile and grout. Price things and see how the options differ for your particular space. Be sure to include all the materials that will be needed for each job. Weighing all of these factors can help make the decision easier.
Where to Find Shower Panels
There are many different places to shop for shower wall panels and surrounds. If something basic is all that's needed, online shopping may be the simplest method. Make sure to check and see what is included with the system/panels, as some companies may include things such as trim or adhesive and others may not. That said, everything needed to complete this type of project can be ordered online if preferred. This is not as easy to do with tile and grout.
Retail stores that specialize in bathrooms are a great option for checking out the various styles and options that are available. They are also a good place to ask questions and learn more about the different brands. Each manufacturer has its own version, system and options. One may make more sense than another after learning about all the choices. See what's in the area and take a road trip to investigate.
Another choice is a home improvement store, which may be more affordable. A few of the manufacturers have particular versions that are exclusive to a store, such as some of the shower wall panels that American Standard has at Home Depot. This means you may not see these versions elsewhere, so it pays to shop around a little before settling on a particular shower wall panel brand.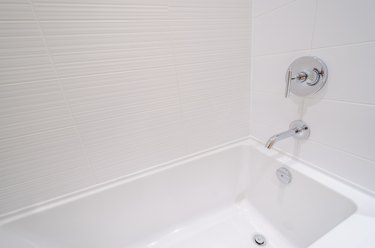 Shower Wall Panel Configurations
Shower panels are sold as separate pieces to make installation simple, and they can be ordered in one-piece or multi-panel configurations. They are often sold as a kit to make things even easier. The panels can be trimmed to fit and can often be overlapped to better customize them to the space. Many are interlocking, which makes installation a snap. There are a number of different ways they can be packaged together for purchase, so be sure to check out the options to see what best suits your bathroom.
Companies such as Kohler have fully customizable systems with optional features that can be included to personalize the shower space. For example, its Choreograph line offers shelving, storage and more that can be included as needed with the panels. Some packages may include the base and shelving, while others may just have the paneling. If the shower is going to be a steam shower, be sure that the product is rated for this type of use. Not all of them are designed to work with steam systems.
Shower wall panels and surrounds are made of a variety of different materials. Some of the more popular varieties include fiberglass and acrylic. There is also a nice selection of composite materials on the market and solid surface products. Select the one that best meets budget needs or compare and choose based on durability. Most of these materials are very resistant to mold and mildew, but there are a few other factors to consider prior to purchase.
​Fiberglass:​ While generally one of the inexpensive choices, fiberglass also tends to succumb to wear and tear over time. It can scratch, but this may not be too serious of a concern on the walls of a shower except for when cleaning. Fiberglass is easy to work with, making it a great pick for DIY projects. It may be best for lower-budget bathroom remodels or for shower areas that don't get used as often.


​Acrylic:​ Acrylic can also be an affordable pick for shower walls. Although it can get a bit more expensive than fiberglass, it's a very popular choice for shower panels. Lightweight and resistant to chipping or cracking, it's also low maintenance and attractive. There are many different manufacturers that use acrylic for shower panels, so the range of choices and styles are plentiful.


​Composite blends:​ Some brands, such as FlexStone, have come up with their own composite blend. In this case, it is comprised of layers of engineered thermoplastic on top of PVC with a decorative layer included in the mix. Other brands have their own versions/blends, like the compression-molded panels in Swan's Veritek line. These composites are durable and come in a fair range of price points. Although they vary in of what they are made, they are all engineered specifically for bathroom spaces and cater to that area of the home.


​Solid surface:​ Solid surface materials are extremely resilient. Because of that, they may be a bit more on the expensive side. Compression molding makes this material strong, and it is also long lasting. Swanstone is a good example of a solid surface shower panel that is durable enough to stand up to the heat in a steam shower, making it a great pick for this type of configuration. Even though these panels are sturdy, they remain easy to cut/trim, so that isn't a drawback for using them in a shower space.

Maintaining Shower Surrounds
Something that all of these brands share in common is the fact that they are fairly easy to keep clean, especially when compared to the tile and grout that is usually used in a shower space. Grout holds on to mold, mildew, soap scum and other undesirable materials, and it can be very challenging to keep it looking good. This is especially true of light-colored grout, which is what is often used in a shower space.
With no texture or grout, shower wall panels don't hold on to all that dirt and grime, so regular household cleaners can be used to keep them looking good. Refer to the specific material and product directions to find out how to best care for the surround or shower panels once they are installed. Many of these materials can scratch or don't react well to harsh abrasives, so use a soft cloth or sponge for cleaning. A mild detergent or basic household spray will usually work wonders in terms of regular cleaning.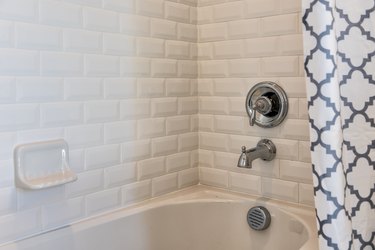 Shower Wall Colors and Patterns
While years ago, shower wall panels and surrounds primarily came in basic white, these days, there are many choices in both hue and pattern. From a wonderful selection of neutral colors to faux stone looks, there are options galore. Accent panels have also become a popular feature, and they can often be included on any wall of a surround.
Imprinted patterns have also risen to the forefront, providing more visual interest. There are subway tile looks, square tile looks and other interesting choices. The benefit here is getting the look of tile without the grout lines and additional cleaning hassle. Many of these have a high-end look, unlike the old shower walls and surrounds. There are modern, contemporary and traditional styles, so every taste is represented.
Extras for the Shower System
Besides the standard blank panels, there are numerous other add-ons that can be included in a shower wall system these days. Even many of the low-priced shower surrounds have at least a few built-in shelves to stash some basics, such as shampoo and soap. It doesn't stop there, however. There are also decorative trim pieces that add a finishing touch to the panels once they are installed and fancy joint systems that provide easy ways to connect and interlock the pieces. Depending on the budget, there are plenty of upgrades available.
Families and households that appreciate extra in-shower storage may want to look for units that include shelving add-ons that can be customized after installation or panels that can be set into the wall for out-of-the-way niche storage. Just keep in mind that there needs to be room between the studs where this type of storage will be installed. There are a wealth of storage solutions out there, so be sure to shop around.
Shower Surround Installation Basics
There are two primary versions of shower wall panel and surround systems, and each is designed to be installed a little differently. Both of these may require trimming the panels to fit, cutting holes for the showerhead and faucet and installing a shower base. Check to make sure the shower wall panels being considered match the installation method that is intended for the bathroom. For both methods, the panels should be dry-fit, and the back panel should be installed first unless it is a two-panel system.
First, there's a glue-up shower panel system. This installation requires preparing the surface so the panels will bond properly. This can mean stripping the wall of tiles, roughing up existing walls or scraping off any high points of glue. The surface should be clean and free of debris so it can accept the glue and bond properly. An adhesive such as GE advanced silicone is then used to mount the panels in place. Sometimes, the company will include the glue in the package.
The direct-to-stud method is the one that is used with laminated shower wall panels that have nailing areas, which allow for mounting directly to the studs. This method is more often used in newer construction or for a full remodel when any drywall is completely removed. Both of these methods only require a basic set of tools, unlike a tile job, where a wet saw, various trowels and other more specialized equipment is more the standard.
Regardless of which shower surround is chosen, all of the work can be finished in just a fraction of the time it takes to hang tile on the shower wall. The materials are lightweight, so that makes the installation easier. The fact that there can be some compensation if the area isn't perfectly square can also be helpful. Add to that the fact that the completed look is clean and attractive, and that makes it a smart option for those looking to do a DIY project in the bathroom space.