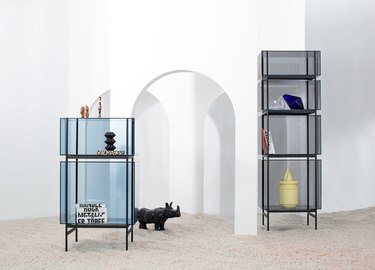 The world of interior design is constantly evolving, which is great because there is always something new and fresh on the horizon. However, it can be difficult to keep up with the ever-changing trends. That's where trade shows such as Maison & Objet in Paris, which is part of Paris Design Week, come in handy.
The winter edition (January 19 - 23) of M&O 2023 just came to a close and it did not disappoint. While the immense event can be overwhelming, it's a great opportunity to see what's new in design, and with over 2,000 brands in attendance, there was plenty to discover. In addition to the creative innovations, stunning craftsmanship, and boundless imagination on display, there were a few highlights that really stood out.
So without further ado, let's dive right into the six most swoon-worthy trends from M&O.
1. Whimsical Light Fixtures
Currently, trending? Light fixtures with whimsical silhouettes, like this tiny table lamp by Utu. Despite its small size, the playful piece of decor makes a lasting impression thanks to the lacquered metal arch in pastel green, frosted glass bulbs, and the travertine base.
2. Curvy Furniture and Decor
To our delight, it looks like the curved furniture trend is here to stay for a while longer. Shapely pieces of furniture and decor were on full display at the winter edition of M&O this year. One example that really stood out from the crowd was this lounge chair and ottoman by NOOM. The curvaceous design just beckons you to sit and kick up your heels. And can we talk about how cute those tiny side tables are?
Bright colors were definitely the belle of the ball at this edition of M&O. From lighting to textiles to furniture, every shade of the rainbow was represented. Enter this dreamy glass cabinet designed by StudioVisser and Meijwaard for Pulpo. While we are partial to the dramatic shade of blue seen here, it also comes in a handful of other colors.
There was no shortage of nostalgic inspiration at the fair, specifically when it came to furniture design. But don't just take our word for it, allow this retro, molded fiberglass lounge chair by Uma, that was showcased by Goodmoods, prove our point. The sunny seat flaunts a two-tone yellow color combination that's reminiscent of a bygone era. And bonus: The chair design comes in several other fun combos, such as a pink and orange sherbet-inspired option that we just adore.
5. Unique Furniture Silhouettes
From lighting to accessories to furniture, it was hard not to notice the exceptional one-of-a-kind designs at M&O. We're talking about more than just a simple piece of decor, but rather a work of art featuring abstract shapes, vibrant colors, and luxurious finishes.
And that brings us to this Memphis-inspired feast for the eyes from Malabar. The sculptural console table (aptly named the Ahrt Console) is a maximalist lover's dream and promises to be the center of attention no matter where it sits.
6. Unexpected Rug Designs
Gone are the days of rug designs that are limited to the shape of a basic square or circle. Now, soft landing pads are created in abstract forms flaunting a kaleidoscope of colors and intricate patterns. Case in point: this sculptural hand-tufted wool rug designed by Piergil Fourquié for Hartô — it looks just as good showcased on the wall as it does on the floor.