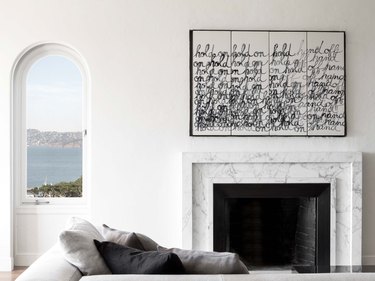 A chic makeover by interior design firm NICOLEHOLLIS transformed a San Francisco apartment from an empty canvas to a striking art-filled home. Expertly curated with a neutral color scheme that complements sweeping views of the Golden Gate Bridge, the Russian Hill apartment was curated with California artists in mind, with pieces by Christopher Badger and Bernadette Jiyong Frank.
To truly highlight the art, proper lighting was crucial, so Hollis brought in unique fixtures by David Weeks and Tom Dixon. "We were working with a completely clean slate to start, so lighting and art play a huge role in making the space what it is — a holistic approach to living," says Hollis, principal and creative director of her firm.
While working with a blank canvas is a designer's treat, the project wasn't without its challenges, mostly due to the building's small elevator. "We had to think outside the box and select furniture that would be able to make it up the stairs," Hollis told us. The answer? Getting creative by designing custom pieces that could make the journey up to the apartment.