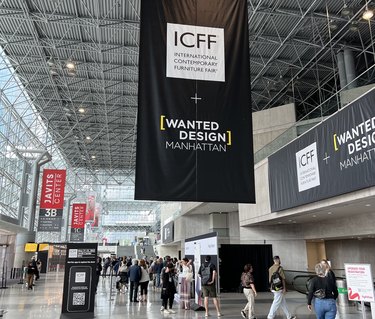 Design Week in New York is always such a magical whirlwind — full of exhibitions, showroom and booth visits, engaging talks, and, of course, cocktail receptions that take place all across the city — and this year's edition was no exception. The annual festival known as NYCxDesign (May 18-25, 2023) encompasses many events including both the ICFF (International Contemporary Furniture Fair) and WantedDesign Manhattan at the Javits Center, which means design lovers like me are in for a treat — and quite a bit of walking. Luckily, yours truly was prepared with a comfortable pair of shoes to get a firsthand look at all of the latest and greatest in the world of interior design.
Ahead you'll find a few key highlights from this year's edition of ICFF and WantedDesign Manhattan.
The 5 Top Trends From New York Design Week: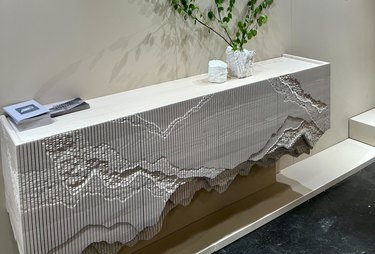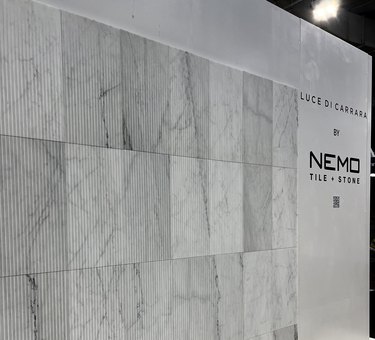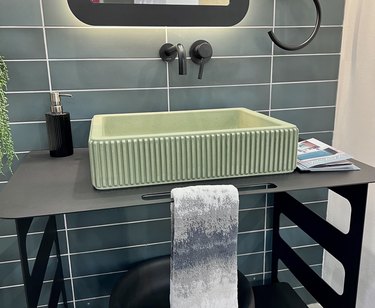 From fluting to reeding and scoring to carving, textured surfaces made a big splash at ICFF this year. Simon Johns definitely nailed the look with this wall-mounted console cabinet, which is part of the Shale Collection that was inspired by the cliffs outside of the Simon Johns' studio in Quebec. The solid ash has been scored and carved to create different layers, depths, and textures that are reminiscent of the mountainous terrain.
But the trend isn't limited to furniture, it also translates to natural stone as proven by Nemo Tile + Stone. The marble tile with a reeded surface displays the brand's expertise in texturizing natural stone. And the fluted concrete vessel sink by Lacava is yet another stylish example of the design trend. You simply can't go wrong pairing a textured surface with a muted shade of sage green — it's a winning combination.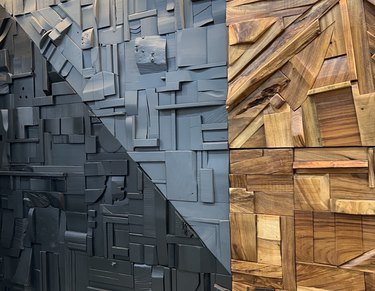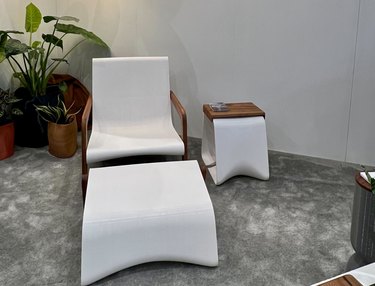 WGSN's annual Big Ideas report predicts that ‌Generation Regeneration —‌ or the act of embracing a circular life cycle that turns waste materials into new materials — will be bigger than ever in 2024. And based on what I saw at ICFF, it seems like the trend forecasters might be on to something. I was delighted to discover that brands are really getting creative when it comes to material options that are more sustainable and eco-friendly. For example, Stackabl — whose tag-line is 'Turn waste into wonders.' — is converting textile and manufacturing waste into really cool customizable light fixtures and furniture.
Similarly, Peter Glassford also made good use of waste material — or, in this case, scrap wood collected from the factory floor — to create beautiful collages. And Model No. chose to use resins that were upcycled from plant waste to create stylish furnishings — using a 3D printer, no less.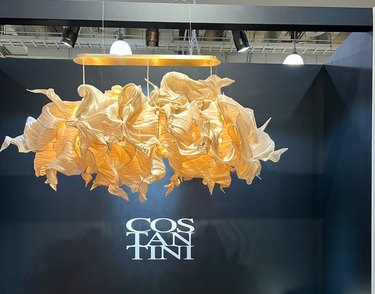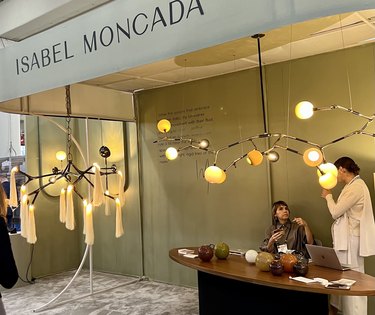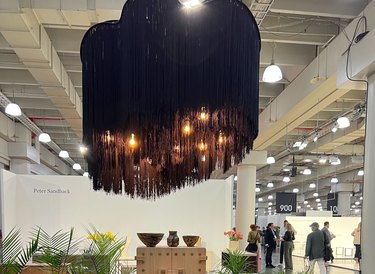 Go big or go home ... at least when it comes to your lighting. The halls of the Javits Center were illuminated by awe-inspiring fixtures, both big and small, that demanded everyone stop and stare. From sculptural organic silhouettes to luxurious finishes to interesting materials, brands such as Costantini, Isabel Moncada, and Obakki are creating more than just functional pieces of decor, but rather luminous works of art.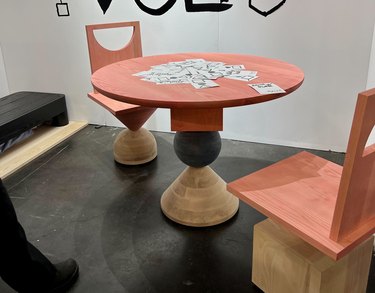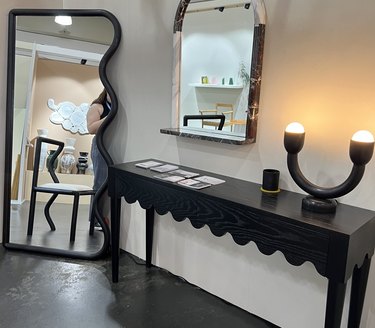 While clean, straight lines will always be a classic design feature, playful and unexpected silhouettes made up of curves and asymmetrical shapes are definitely trending at the moment. For instance, how cute is this geometric table and chair setup by Study Hall? Or the light blue chaise showcased by Love House and designed by Sunshine Thacker Studio? Christopher Miano of CAM Design Co. put squiggly lines and scalloped edges to work in this furniture collection for the win.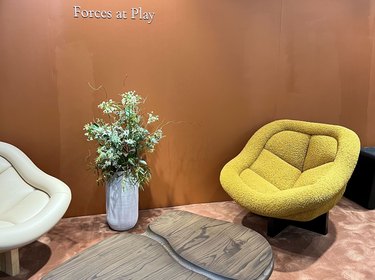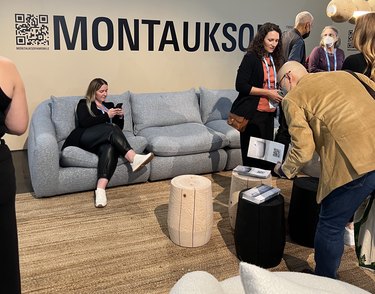 After walking thousands upon thousands of steps, I was more than happy to visit any booth that offered a place to perch such as Dooq, Forces at Play, and Montauk Sofa, just to name a few. Needless to say, I can personally attest to the fact that each brand offers furniture pieces that not only look nice, but are ridiculously comfortable, too (and I'm not just saying that because I was tired.)
Beyond the good looks and comfort, these brands also had something else in common: bouclé upholstery. ICYMI, the nubby fabric has been quite popular as of late, and it would seem that the beloved material is here to stay, at least for the time being.